Since there have been a few threads floating around showing pics of the training and drill of various Defence Forces, I figured I'd share some pics from the Australian Defence Force with you.
Australian SAS in Iraq/Afghanistan (note that Aussie SAS troops were located on the outskirts of Baghdad for weeks before the war started)
4 RAR Commandos
Soldiers on board HMAS Kanimbla practicing actions on stopping illegal vessals (soldiers using an F89 Minimi 5.56mm LMG) Illegal fishing and people smuggling is a big problem in our northern waters, and in our sothern waters we've had incursions from unauthorised ships, including a north korean one, which was concerning.
BAE Systems Parakeet Surveillance Land Rover Defender
A graduate officer From Royal Military College Duntroon
HMAS Anzac firing 5 inch gun on enemy position (in support of Royal Marines) in Iraq
Australian Infantry in Iraq (soldier is carrying F88 Steyr 5.56mm with 40mm grenade launcher)
Officers graduation from the Royal Military College Duntroon. This is a winter graduation. In summer the dress uniform is white.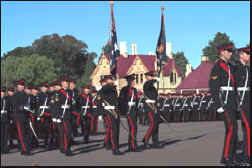 An ASLAV from 2cav on exercise at Mt. Bundy. Armed with 25mm cannon.
An ASLAV-A, this is the ambulance designation. It can carry 6 casualties, and is armed with .50 cal (not pictured)... Note ASLAVs are fully amphibious.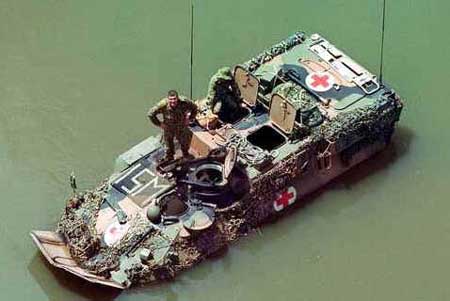 1st Armoured Brigade Leopard Tank
4 RAR commando TAG group
4 RAR in section assault. (note that 4RAR still chooses to sometimes use the M60 or MAG58 rather than the F89 Minimi)
Royal Australian Artillery Corp gunners enjoy "freedom of the city"