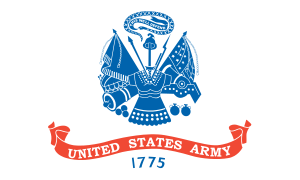 US Army Ranks, Rank Insignia and Army Pay Grades
Scroll down to identify and find info about US Army Enlisted Ranks, Warrant Officer Ranks and US Army Officer Ranks and Army Pay Grades
US Army Ranks and Army Rank Insignia
Army Ranks are more than just who salutes whom.
Army rank is a badge of leadership.
Responsibility for personnel, equipment, and mission grows with each increase in rank.
Do not confuse rank with pay grades, such as E-1, W-2 and O-5.
Pay grades are administrative classifications used primarily to standardize compensation across the military services. The "E" in E-1 stands for "enlisted" while the "1" indicates the pay grade for that position.

The other pay categories are "W" for warrant officers and "O" for commissioned officers. Some enlisted pay grades have two ranks. The Army has the ranks of corporal and specialist at the pay grade of E-4. A corporal is expected to fill a leadership role and has a higher rank than a specialist even though both receive the same amount of pay.

Rank images and info from Defenselink.mil and www.perscom.army.mil. Find a historic overview of Military Ranks and Military Rank Insignia here: http://www.defenselink.mil/news/Nov1999/n11221999_9911224.html
US Army Enlisted Ranks, Enlisted Army Rank Insignia

Service members in pay grades E-1 through E-3 are usually either in some kind of training status or on their initial assignment. The training includes the basic training phase where recruits are immersed in military culture and values and are taught the core skills required by their service component. Basic training is followed by a specialized or advanced training phase that provides recruits with a specific area of expertise or concentration.

In the Army this area is called a military occupational specialty (MOS). For rank and precedence within the Army, specialist ranks immediately below corporal. Among the services, however, rank and precedence are determined by pay grade.

Specialists who have demonstrated leadership abilities and are serving in Sergeant positions can be promoted to Corporals. This signifies that they hold a leadership position, and are held to the responsibilities and authorities inherent in that role. These individuals either do not have enough "Time in grade" to be promoted, or have not yet had a chance to go to the Primary Leadership Development Course.

Pay Grade: E2

Private E-2
Pay Grade: E3

Private First Class (PFC)
Pay Grade: E4

Specialist Corporal
(SPC) (CPL)

Leadership responsibility significantly increases in the mid-level enlisted army ranks.
This responsibility is given formal recognition by use of the term noncommissioned officer (NCO).
Army Corporals and Sergeants are considered NCO ranks.

Pay Grade: E5

Sergeant (SGT)
Pay Grade: E6

Staff Sergeant (SSG)
Pay Grade: E7

Sergeant First Class (SFC)

At the E-8 level, the Army have two positions at the same pay grade. Whether one is a Master Sergeant or a first sergeant in the Army depends on the person's job. A Master Sergeant works in a staff position, whereas a First Sergeant is responsible for a Company of soldiers. The same is true for the positions at the E-9 level (SGM and CSM), except that they are at a Battalion or higher level. Army Sergeant Majors and Command Sergeant Majors receive the same pay but have different responsibilities.
All told, E-8s and E-9s have 15 to 30 years on the job, and are commanders' senior advisers for enlisted matters.
A third E-9 element is the senior enlisted person of the Army. The sergeant major of the Army is the spokespersons of the enlisted force at the highest levels of their services.

Pay Grade: E8

Master Sgt, First Sgt
(MSG) (1SG)
Pay Grade: E9

Sergeant Major
(SGM)
Pay Grade: E9

Command Sgt Major
(CSM)
Pay Grade: E9

Sergeant Major of the Army
(SMA)
US Army Warrant Officer Ranks

Officer ranks in the United States military consist of commissioned officers and warrant officers. Warrant officers hold warrants from their service secretary and are specialists and experts in certain military technologies or capabilities. The lowest ranking warrant officers serve under a warrant, but they receive commissions from the president upon promotion to chief warrant officer 2. These commissioned warrant officers are direct representatives of the president of the United States. They derive their authority from the same source as commissioned officers but remain specialists, in contrast to commissioned officers, who are generalists.

Pay Grade: W1

Warrant Officer 1
(WO1)
Pay Grade: W2

Chief Warrant Officer 2
(CW2)
Pay Grade: W3

Chief Warrant Officer 3
(CW3)
Pay Grade: W4

Chief Warrant Officer 4
(CW4)
Pay Grade: W5

Chief Warrant Officer 5
(CW5)

Important note about the new Army CW5 insignia!
The increasingly joint nature of operations with the Department of Defense and the expanded use of the most senior warrant officers in joint operations validated the need to standardize CW5 rank insignia among all the services that employ them. The effective date for wear of the new CW5 insignia and branch-specific insignia and colors was 9 July 2004 to coincide with the 86th anniversary of the Warrant Officer Corps.
"Old" CW5 insignia:

US Army Officer Ranks

The commissioned ranks are the highest in the military. These officers hold presidential commissions and are confirmed at their ranks by the Senate. Army officers are called company grade officers in the pay grades of O-1 to O-3, field grade officers in pay grades O-4 to O-6 and general officers in pay grades O-7 and higher.

Pay Grade: O1

Second Lieutenant
(2LT)
Pay Grade: O2

First Lieutenant
(1LT)
Pay Grade: O3

Captain
(CPT)
Pay Grade: O4

Major
(MAJ)
Pay Grade: O5

Lieutenant Colonel
(LTC)
Pay Grade: O6

Colonel
(COL)

Stars were first used to identify general officers on June 18, 1780 when it was prescribed that Major Generals would wear two stars and Brigadier Generals one star on each epaulette. Three stars were established in 1798 for the rank of Lieutenant General and were worn by the Commander-in-Chief, General Washington. Four stars were authorized for the rank of General when the rank was established by Act of Congress on July 25, 1866. Grant was the first officer of the Army to hold the rank of General and to wear the insignia of four silver stars.

Pay Grade: O7

Brigadier General
(BG)
Pay Grade: O8

Major General
(MG)
Pay Grade: O9

Lieutenant General
(LTG)
Pay Grade: O10

General
(Gen)

General of the Army
(Wartime only)

General of the Army was established by Congress on December 14, 1944 and provided that no more than four officers could be appointed. President Roosevelt appointed Generals George Marshall, Douglas MacArthur, Dwight D. Eisenhower and Henry H. Arnold. Act of Congress, approved September 15, 1950, authorized the President to appoint General Omar N. Bradley to the grade of General of the Army. The insignia of grade for General of the Army is prescribed as five silver stars set in a circle with the coat of arms of the United States, in gold, above the circle of stars.