US Navy Mottos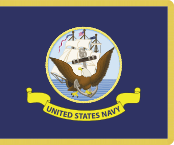 United States Armed Forces Mottos – United States Navy, USN
Please feel free to contact us if you know any more US Navy mottos, or if you find any errors in the USN mottos. You can e-mail them to us, or you can post your US Navy mottos in the forum.
Related info about US Navy Ranks and Insignia
United Stated Navy Mottos
"Honor, Courage, Commitment"
US Navy Core Values – USN site
(There is no official US Navy motto)
"Non Sibi Sed Patriae!"
(Not for self, but country)
old US Navy Motto
"Accelerate Your Life"
"A global force for good."
Old US Navy Recruitment mottos / slogans
There is no official recruitment slogan now, but "America's Navy" is being used as a tagline
"Force Protection on the move"
Naval Coastal Warfare Group One
(NCWG 1)
"Anywhere, Anytime, Any task.
Nothing but Excellence"
Mobile Inshore Undersea Warfare Unit 105
(MIUWU 105)
"Peace Through Strength"
USS Ronald Reagan
(CVN 76)
"Spirit of Freedom"
USS George Washington (CVN-73)
"Don't Tread On Me"
USS Boone
(FFG-28)
"Vanguard of Victory"
USS Normandy
(CG-60)
"The Nation's Defender"
USS Oak Hill
(LSD-51)
"Invictus Gallus Gladiator"
USS Saratoga
CV-60
"First in Defense"
USS Forrestal
CV-59
"I Have Not Yet Begun To Fight"
USS Bonnhomme Richard
LHD 6
"In Harm's Way"
USS John Paul Jones
DDG-53
"ANY TIME – ANY WHERE – ANY WEATHER"
USS Salamonie
AO-26
The U.S.S. Salamonie served her country from 1941 until 1968.
"Potius Mori Quam Foedar"
(Death Before Dishonor)
and
"The Regiment's Best"
Massachusetts Maritime Academy Honor Guard
"In Peace and War"
US Merchant Marines motto
"Can Do"
and
"Construimus, Batuimus"
(We Build, We Fight)
US Navy SeaBees motto
"Performance with style"
later bastardized into "Style before performance"…
VS-29 (Sea Control Squadron Two Nine)
"Dragonfires"
"The only easy day was yesterday!"
US Navy SEALS motto
"WE DIVE THE WORLD OVER"
US NAVY Divers
"SO OTHERS MAY LIVE"
US NAVY Search and Rescue (SAR)
"Any time, any where, always ready, always there."
Official Navy Submarine motto
"Pax per scientiam"
(Peace through science)
Nuclear Submarine Navy
"In god we trust. All other we monitor."
Naval Intelligence
"Lead, follow, or get out of the way"
Tulsa Central N.J.R.O.T.C
Most of these United States Navy mottos have been mailed to me, so I can't guarantee that they are correct.
So please contact me if you have any corrections to the mottos or if you want to submit your own USN mottos here.