US Air Force Mottos – USAF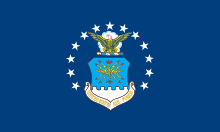 United States Armed Forces Mottos – United States Air Force, USAF
Please feel free to contact us if you know any more US Air Force mottos, or if you find any errors in the USAF mottos listed in here. You can e-mail them to us, or you can post your Air Force mottos in the forum.
Related info about US Air Force Ranks and Insignia
United Stated Air Force Mottos
"Aim High … Fly-Fight-Win"
Official US Air Force Motto
Integrity First
Service Before Self
Excellence in All We Do
US Air Force Core Values – USAF Site
"No one comes close"
and
"Uno Ab Alto"
(One over all)
Unofficial US Air Force Mottos
"Libertatem Defendimus"
("Liberty We Defend")
2nd Bomber Wing (2nd BW)
"Kiai O Ka Lewa"
("Guardians of the Upper Realm")
5th Bomber Wing (5th BW)
"Mors Ab Alto"
("Death From Above")
7th Bomber Wing (7th BW)
"Guardians of the North"
28th Bomber Wing (28th BW)
"FOLLOW US"
509th Bomber Wing
"Semper Paratus"
("Always Prepared")
9th Reconnaissance Wing (9th RW)
"Aut Vincere Aut Mors"
("Win or Die")
1st Fighter Wing (1st FW)
"Fourth but First"
4th Fighter Wing (4th FW)
"Attaquez et Conquerez"
("Attack and Conquer")
8th Fighter Wing (8th FW)
"The world's most lethal war fighting team"
27th Fighter Wing (27th FW)
"Return With Honor"
31st Fighter Wing (31st FW)
"Fire From the Clouds"
33rd Fighter Wing (33rd FW)
"Attack to Defend"
35th Fighter Wing (35th FW)
"Tutor et Ultor"
("Defender and Avenger")
49th Fighter Wing (49th FW)
"SEEK, ATTACK, DESTROY"
52nd Fighter Wing (52nd FW)
Spangdalhem Germany
"VIRTUTE ALISQUE"
("On wings with courage")
111th Fighter Wing, 103rd Fighter squadron
A-10s, Willow Grove Air Reserve Station
"Aduentes Fortuna Juvat"
(Fortune Favors the Bold)
366th Air Expeditionary Fighter Wing
Mountain Home AFB, Idaho
"One team, one mission!"
37th Training Wing, Lackland Air Force Base Texas
"Cum Grano Salis"
("With a grain of salt")
VS-38, Air Antisubmarine Squadron "Red Griffins"
"In God we trust: All others we monitor"
5th Reconnaissance Squadron (5th RS)
"Combat Ready Combat Proven"
463d (AMXS) Aircraft Maintenance Squadron
Little Rock Air Force Base, Arkansas
C-130E and C-130H / Air Mobility Command
"Mors Ab Alto"
("Death From Above")
13th Squadron, 9th Bomber Wing
"We were going by there anyway"
327th AS / 913 AW, Willow Grove ARS Station PA
"Death on call"
U.S. Air Force ROMAD / TACP
(Tactical Air Control Party)
"These things we do that others may live"
USAF Pararescue
"Defensor Fortis"
("Defenders of the Force")
United States Air Force Security Forces
"Excellence in action …. Always"
91 Security Forces Group (SFG)
Minot AFB, ND
"Any Task, Any Place, Anywhere."
460th Security Forces Squadron, Denver, CO
United States Air Force Space Command
Air Force's Strategic Air Command (SAC's) 4245th Strategic Wing, had the motto of
"Peace Through Strength"
"Peace is our Profession"
Air Force's Strategic Air Command (SAC's)
USAF SAC Original motto was "War is our Profession Peace is our Product"
"Peace is our Profession" was adopted about 12 years after the formation of SAC
"The Force Behind the Force"
72nd Aerial Port Squadron
US Air Force Reserve, Tinker AFB, Oklahoma
"The impossible we do every day, Miracles takes a bit longer"
4404th CSG/PERSCO Dhahran AB, Saudi Arabia
Most of these United States Air Force mottos have been mailed to me, so I can't guarantee that they are correct.
So please contact me if you have any corrections to the US air force mottos or if you want to submit your own USAF mottos here.