The Indian Air Force is the air arm of the armed forces of India. Its primary responsibility is to secure Indian airspace and to conduct aerial warfare during a conflict. It was officially established on 8 October 1932 as an auxiliary air force of the Indian Empire and the prefix Royal was added in 1945 in recognition of its services during World War II.
With strength of approximately 170,000 personnel and 1,306 aircraft, the Indian Air Force is the world's fourth largest. In recent years, the IAF has undertaken an ambitious expansion and modernisation program to replace its aging Soviet-era fighter jets. Among the various expansion plans is the MRCA program under which the IAF plans to induct 126 fighter jets at a cost of US$12 billion.
FIGHTER AND COMBAT AIR CRAFT
The Sukhoi Su-30MKI (MKI stands for Russian Modernizirovannyi Kommercheskiy Indiski (Cyrillic: Модернизированный Коммерческий Индийский), "Modernized Commercial for India".) (NATO reporting name: Flanker-H) is the IAF's prime air superiority fighter. The Su-30K variant was first acquired in 1996. That year, the IAF signed a US$1.6 billion contract with Russia for the supply of 50 Su-30MKIs and the technology transfer and license to manufacture 140 Su-30MKIs by Hindustan Aeronautics Limited.The two-seat, multi-role fighter has a maximum speed of 2500 km/h (Mach 2.35) and a service ceiling of 20,000 meters. With one mid-air refueling, it can travel as far as 8000 km, making it a suitable platform to deliver strategic weapons. .In 2007, the IAF spent US$700 million to upgrade its remaining 10 Su-30Ks and 8 SU-30MKs to the MKI Standard and signed a contract for the supply of 40 additional MKIs with Russia. The IAF is banking upon the 230 Sukhoi-30MKIs contracted from Russia at an overall cost of around $8.5 billion to be the mainstay of India's air defence till well past 2020. In fact, the IAF is now keen to order another 50 Sukhois.
The MiG-29 (NATO: Fulcrum) is the IAF's dedicated air superiority fighter. It has a top speed of 2,445 km/h (Mach 2.3) and is armed with a 30 mm cannon along with R-60 & R-27 R missiles. India was the first international customer of the MiG-29. The Indian Air Force (IAF) placed an order for more than 50 MiG-29s in 1980 while the aircraft was still in its initial development phase. Since its induction into the IAF in 1985, the aircraft has undergone a series of modifications with the addition of new avionics, sub-systems, turbofan engines and the more efficient and powerful radar (Zhuk-ME). The upgraded Indian version is known as Baaz (Hindi for Hawk) and forms a crucial component of the second-line offensive aircraft-fleet of the IAF after the Sukhoi Su-30MKI.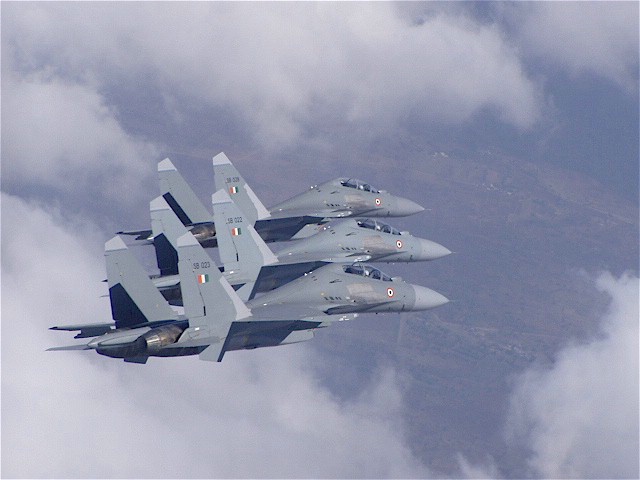 below su-30M.K.I from RHINO's
Last edited: