Zeno's Warbird Video Drive-In September 2011 Newsletter
Hello World War 2 & jet aircraft fans -- --
You are invited to drop by Zeno's Warbird Video Drive-In
http://zenoswarbirdvideos.com/
to view September's parade of six classic World War 2 aviation and jet aircraft videos, including two premiers, streaming over the internet.
As always, all of the videos showing on our web site are for your free viewing pleasure.
Our thanks to Military Quotes for permission to post here. NEW Follow us on Twitter @ZenosWarbirds to see previously unreleased videos from Zeno's vault and more!
Now showing At the Matinee at Zeno's Drive-In.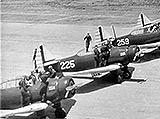 NEW! Expansion to Air Power: The Rise of the Army Air Force 1939-43 Between the eve of World War 2 in June 1939 and December 1943, the US Army Air Force grew from 2,402 aircraft and 24,700 personnel to 65,000 aircraft and 2.4 million personnel - an unprecedented leap. FDRs goal of producing 50,000 planes a year was met and surpassed! This engrossing film combines easy to grasp information with memorable graphics and dramatic historic film footage that makes it all real. You'll learn about pilot and technical training programs, logistics, new aircraft production, billions in appropriations, Air Force organizational structure and much more. Planners had to estimate everything from bomb production according to type and usage to fuel consumption per hour by a myriad of different aircraft types performing hundreds of thousands of sorties. A treasure trove of archival film, including captured enemy footage, takes you year by year starting in 1939 through 1943 to show you not only what was happening in the US, but how it related to world events like "The Blitz" and more.

The 354th Fighter Group Mustang Pioneers Color Scrapbook Rare color film of the legendary 354 Fighter Group, with over 700 Kills, the highest scoring American unit in Europe. You'll see great aces like G. T. Eagleston and B. W. Carr at work and at play in their newly captured base in Germany in Spring, 1945, only a few months before war's end. Nice scenes with the group's well known P-51Ds too, including "Margie Maru" and "Angel's Playmate." This was the first group to fly P-51Bs in the ETO. They were known as the "Mustang Pioneers." Amazing color gun camera film!

Flight Deck Crew Landing & Re-spotting World War 2 Carrier Aircraft Color. Major air battles in the Pacific in World War II often turned on the ability of each side to quickly launch, land, rearm & refuel, and then relaunch their aircraft. This unique film is an unusual look (in color) at how US Navy carrier flight deck crews were trained to quickly land, park, fuel & re-arm incoming aircraft. As a bonus, you'll see GM FM-1 "Wildcats" and Grumman TBF "Avengers" up close, handled expertly on the tiny deck of a CVE "jeep" escort carrier.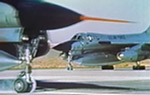 B-58 MITO Tests Color. During the depths of the Cold War, SAC bombers had only 15 to 20-minutes to get airborne between the launch of enemy missiles and their arrival at US targets. That meant that the ability get bombers on their way quickly was essential for survivability, striking power and deterrence. A critical element in this quick response was "MITO" - "Minimum Interval Take-Off." This involved determining the optimum interval between the launching aircraft to achieve the fastest possible deployment, while avoiding jet thrust and wing turbulence from preceding aircraft while allowing an adequate safety margin in case an individual plane had to abort. In January, 1963, SAC B-58 units conducted a series of tests to determine optimum MITO for the Hustler for day and night launches, singly and in pairs, with up to a half dozen B-58s queuing up on the flight line. There's some beautiful B-58 take-off footage here, shot from many angles, including overhead helicopter shots of dual launches and afterburners lighting up the night.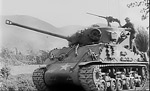 New! A Motion Picture History of the Korean War was produced by the Defense Department as is a concise, easy to grasp history of the war told through maps, memorable "you are there" images and eye witness accounts. You'll learn about strategy and tactics while you see the dramatic ebb and flow of the conflict from the North Korean invasion through the final cease fire. Highlights include rare gun camera footage of ground attacks by a variety of aircraft, including the seldom seen F7F Tigercat, the first Marine helicopter air assault to secure a hilltop behind enemy lines, F-86 Sabres taking on Migs, B-29 strikes, amphibious and airborne attacks, fighting a Winter war, Naval support, toe-to-toe combat infantry operations through mountainous terrain and much more.

Operation Carpetbagger From the Archives of the C.I.A. This special operation was too secret to be revealed during World War II. Specially modified B-24 bombers of the 492nd & 801st Bomb Groups flew up to 40-50 high risk missions on moonlit nights over Nazi occupied Europe, dropping agents and supplies to 300,000 Resistance members. The operation was run by the O.S.S. "Carpetbagger" group out of an airfield at Harrington, England. You'll see B-24 operations as well as a detailed look at the huge, well camouflaged supply facility at nearby Holme. Highlights include O.S.S mission planning and flight operations briefing sessions and a very detailed account of how different kinds of weapons, ammunition and other essentials were packed in custom containers and loaded onto B-24s for parachute drop
If you haven't stopped by Zeno's Drive-In before, we also feature 1940-45 vintage WWII Army & Navy films and pilot's manuals on how to fly the F4U, F6F, P-38, P-39, P-40, P-47, P-51, P-61, TBF/TBM, AT-6/ SNJ, B-17, B-24, B-25, A-20, A-26, B-26, B-29, and Stearman N2S. Alert! - don't miss the F-86 & B-58!
Zeno
Zeno's Warbird Video Drive-In
World War II Aviation Videos Playing Online 24/7
http://www.zenoswarbirdvideos.com/
Now on Twitter @ZenosWarbirds
Web Videos: Birth of the Army Air Force, P-51s, B-58s, WW2 Carriers, O.S.S Drops