Zeno's Warbird Video Drive-In December 2013 Newsletter
Hello World War 2 & jet aircraft fans --
You are invited to drop by Zeno's Warbird Video Drive-In
http://www.zenoswarbirdvideos.com
to view our December selection of eight exciting aviation streaming over the Web in broadband. There are four premiers and I've added four more of my favorite videos for the holiday season. Check out the new "Fighter Tactics" video with Ronald Reagan!
As always, all of the videos showing on our website are for your free viewing pleasure. Please help "spread the word" by liking us on Facebook.
Now showing in December "At the Matinee"
http://zenoswarbirdvideos.com/MATINEE.html
at Zeno's Drive-In Free admission!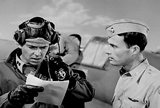 * World War 2 Fighter Combat Formations: Attack & Escort with Ronald Reagan NEW!
An experienced Army Air Force fighter pilot, played with his usual verve by Ronald Reagan, is called back from the front to lead a fighter tactics class in Flight School for rookie pilots. The film starts with the AAF way for forming. deploying and maneuvering fighter formations from two ship elements to 12 plane squadrons & how to take on enemy fighters. Then the focus turns to tactics for escorting friendly bombers and attacking enemy bomber formations, including close escort, top cover, using the sun to blind opponents, employing decoys in the attack - and more. Well illustrated.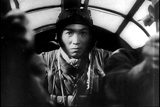 * The Sinking of the Prince of Wales & Singapore Surrenders Japanese Newsreels 1942 Restored NEW!
In Japanese with English explanatory text. First film shows the sinking of the British battleship Prince of Wales and battle cruiser Repulse by Japanese bombers. It's a mixture of real film footage and recreated special effects, typical of World War 2 Japanese documentaries. The second film shows the surrender of Allied forces in Singapore.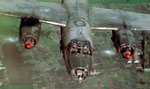 * White Tailed Marauders the 323rd Bomb Group and their B-26s
Exclusive Original Production - Rare color film of B-26 Marauders in action in the spring of 1945. See the 453rd, 454th, 455th, and 455th Bomb Squadrons operating against Germany from their base in Laon, France. All color footage really brings this bygone era startlingly back to life. Where possible, individual aircraft and their crews are identified.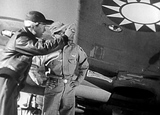 * Why We're Here Fighting in Burma & India -1945 NEW! Digitally Restored.
This film report was delivered by General Daniel Sultan, who succeeded General Stilwell as Allied commander of Burma/India operations. When surveyed, 50% of US forces had responded that they didn't know why they were in seemingly obscure South East Asia, "fighting to save the Chinese and the British Empire," instead of in Europe or the highly publicized island campaigns in the South Pacific. In response, the General shows the vital strategic importance of keeping China in the war and the essential role (and sacrifices) of British and Chinese forces, all done through engaging film clips and maps.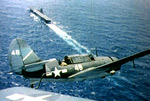 * The Fighting Lady A new print from the National Archives, that Icolor corrected color really brings this film to life! "The Fighting Lady" follows the fictional career of an Essex Class aircraft carrier from the Marcus Islands campaign, through Tinian, Truk, the "Mariana's Turkey Shoot" and much more. All of the footage shown in this fascinating classic documentary is real -- shot by combat cameramen on board ship and in the air, showing actual Navy and Marine pilots and crewmen up close and personal.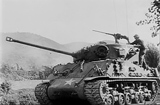 * A Motion Picture History of the Korean War NEW1 Restored A
concise, easy to grasp history of the war told through maps, memorable "you are there" images and eye witness accounts. You'll learn about strategy and tactics while you see the dramatic ebb and flow of the conflict from the North Korean invasion through the final cease fire.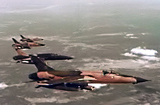 * "There is a Way" F-105s in Vietnam This is a lot more than your average USAF "information" film. Shot in November, 1966, this up close and personal look at the 421st Sq, 388th TFW and their F-105s has everything from exciting footage of a bombing raid on Hanoi, dodging SAMs and fighting Migs, to feverish overnight activity to repair and rearm the big "Thuds" at their base at Korat, Thailand.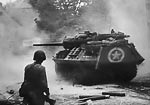 * The True Glory - From D-Day to the Elbe Academy Award Winner 1945 (Restored) the True Glory" tells the breathtaking story of the Allied sweep across Northern Europe, seen through the lenses of hundreds of combat cameramen. An inspirational journey!
We also show 1940-45 vintage WWII Army & Navy films and pilot's manuals on how to fly the F4U, F6F, P-38, P-39, P-40, P-47, P-51, P-61, TBF/TBM, AT-6/SNJ, B-17, B-24, B-25, A-20, A-26, B-26, B-29, and Stearman N2S. Alert! - don't miss the F-86, B-47 & B-58!
Zeno
Zeno's Warbird Video Drive-In
World War II Aviation Videos Playing Online 24/7
http://www.zenoswarbirdvideos.com
Now on Twitter @ZenosWarbirds
Web Videos: WW2 Fighter Tactics w Ronald Reagan, Prince of Wales Sunk, F-105s, B-26s, Carriers & more