Zeno's Warbird Video Drive-In Big July 2010 /13th Anniversary Newsletter
Hello World War 2 & jet aircraft fans --
You are invited to drop by Zeno's Drive-In
http://www.zenoswarbirdvideos.com/
for this month's flight of five exciting aviation & combat documentary films playing over the Internet. We're celebrating the 13th Anniversary of Zeno's Warbird Video Drive-In with the premiere of our exclusive restored and extended release of the all time P-47 classic" Thunderbolt!," plus another exciting color feature film premier & three more Drive-In favorites
My thanks to Military Quotes for permission to post in this forum.
As always, all of the videos showing on our web site are for your free viewing pleasure.
The movies playing at the Matinee are viewable in both RealVideo and Windows Media Player streaming video formats
Now showing "At the Matinee" at Zeno's Drive-In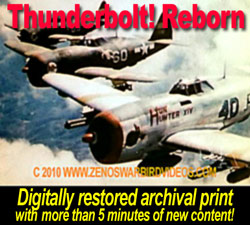 "Thunderbolt! Reborn" Color New - Exclusive special digitally restored Edition (C2010) from an archival print with more than 5 minutes of additional content & directional stereo sound. "Thunderbolt!" Chronicles the exploits of the P-47 Thunderbolt pilots of the "Fighting Cocks" of the 65th Fighter squadron, 57th Fighter Group. New! Additional footage of 64th FS "Black Scorpions," 66th FS "Terminators" and Free French P-47s based on the island of Corsica off the northwest coast of the Italian boot, the 57th FG flew from behind the enemy's flank. As part of "Operation Strangle," they continuously attacked highways, bridges, ammo dumps, railroads and just about anything that moved to choke off the flow of supplies to the Axis front line. "Our new digitally restored print is a huge leap in quality with great new additional content. The stereo sound really brings these birds to life" Zeno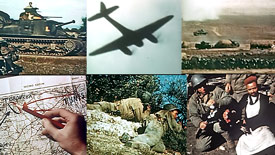 "News From the Front in North Africa 1942" Color. New Premier Restored video with color correction.(c2010) Shot In Technicolor by US Army, Navy and O.S.S. Cameraman in Morocco, Algeria and Tunisia, November-December 1942. Hands down some of the best color footage from early World War 2. Highlights: A low altitude dogfight between P-38s. Spitfires and Messerschmidts, as photographed from the ground. Footage of actual tactical combat maneuvering between fighters is extremely rare! The Battle of Taboura, Tunisia unfolds in broad valley right out of a scene from "Patton." German tanks and infantry advance in the open and are turned back by withering Allied gun fire. These are some of the first, and possibly only, color shots of Tiger 1 tanks in combat, taking and returning fire. (Tigers were so new that they are misidentified as "Mark IVs").Very low level Luftwaffe bombing and staffing runs against shipping, towns, troops and airfields by JU 88s. He 111's and rare shots of ME 210s flying right overhead. Color footage of Allied forces, including Grant medium and Stewart light takes, half tracks, jeeps, and US and British soldiers in combat kit both at rest and in fierce fighting.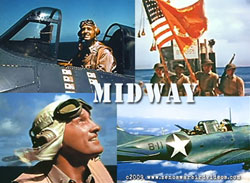 "John Ford's Battle of Midway" Academy Award Winner Color Directed by four time Oscar Winner John Ford New Color Corrected Edition from archival sources. (C2010) This stirring documentary was shot during the intense June 4th Japanese carrier plane attacks on Midway Island and by Navy Combat Cameramen aboard the USS Yorktown during the epic carrier battle, along with color gun camera film of air to air and air to sea combat. Highlights include memorable scenes from the Marine Base on Midway, airfield B-17s leaving to attack the Japanese fleet, patrolling PBYs, action packed Japanese attacks on the Yorktown and up close shots of the Yorktown's squadron VF3 and their F4F Wild Cats, including aces John S. "Jimmy' Thach ("The Thach Weave") and Lt. E. Scott McCuskey.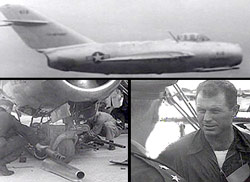 "We Flew the Mig" Restored & optimized for web streaming (C2010). In September, 1953, a North Korean defector handed over the first Russian Mig 15 to fall into US hands. This was a momentous occasion because the Mig had proven to be a worthy adversary for the North American F-86 Sabre in the skies over Korea. The Mig was immediately subjected to comprehensive testing. You'll see Chuck Yeager and other top test pilots putting the Mig through it's paces and hear what they learned, along with a point by point performance comparison with the F-86. Nice footage of the Mig's armaments too.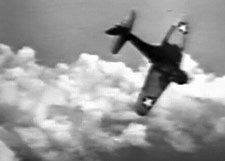 "Avoiding and Controlling Spins & Stalls in World War 2 Aircraft" Learn why aircraft spins and stalls happen and how to deal with them in this thorough Wold War 2 US Navy training film. Features examples using an F6F Hellcat, F4U Corsair, PBY Catalina & more!
If you haven't stopped by Zeno's Drive-In before, we also feature 1940-45 vintage WWII Army & Navy films and pilot's manuals on how to fly the F4U, F6F, P-38, P-39, P-40, P-47, P-51, P-61, TBF/TBM, AT-6/SNJ, B-17, B-24, B-25, A-20, A-26, B-26, B-29, and Stearman N2S. Alert! - don't miss the F-86 & B-58!
Free admission for all. That's over 14 hours of rockin' World War II props & jets for free viewing over the Internet!
Zeno
Zeno's Warbird Video Drive-In
World War II Aviation Videos Playing Online 24/7
http://www.zenoswarbirdvideos.com/
Web Videos: Thunderbolt! Restored, Patton Fights Rommel, Yeager's Mig, Midway & more