The fire is everything
Staff member
History Channel!
HistoryChannel.com Affiliate of the Month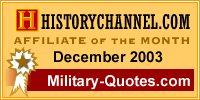 Military-Quotes.com has been chosen as HistoryChannel.com's Affiliate of the month in December!
(and also in January, since they forgot to add my link to their site in December.. 8) )
Not because I have sold that much for them, but because of the way I have placed my ads, recommending different products under different quotes categories.
History Channel offers a lot of great military (and other) documentaries and other types of movies.
I can really recommend HistoryChannel.com's products.
go to
http://www.military-quotes.com/military-gear/military-movies.htm
to find a selection of
History Channel
movies