Zeno's Warbird Video Drive-In July 2012/15th Anniversary Newsletter
Hello World War 2 aircraft fans --
You are invited to drop by Zeno's Warbird Video Drive-In
http://www.zenoswarbirdvideos.com
to view this months selection of five action packed World War 2 & jet videos streaming over the Web.
This month we're celebrating our 15th anniversary on the Internet with four of my favorite films plus a premiere!
Back in 1997 when we opened our doors, we featured just three postage stamp sized WW2 pilot training videos streaming at 3 frames per second at 28.8k dial-up modem speed. Today, we have well over 100 films in our library & have moved our videos to YouTube to improve image quality with full frame rates, high resolution, broadband video. Check out the directional stereo sound on "Thunderbolt!"
As always, all of the videos showing on our web site are for your free viewing pleasure. Please help "spread the word" by liking us on Facebook!
My thanks to Military Quotes for permission to post in this forum.
Now showing in July "At the Matinee" at Zeno's Drive-In
http://zenoswarbirdvideos.com/MATINEE.html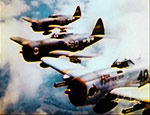 "Thunderbolt!" Restored with Additional footage & stereo sound. Thunderbolt! chronicles the exploits of the P-47 Thunderbolt pilots of the "Fighting Gamecocks" of the 65th Fighter squadron, 57th Fighter Group. Based on the island of Corsica off the northwest coast of the Italian boot, the 57th FG flew from behind the enemy's flank. As part of "Operation Strangle," they continuously attacked highways, bridges, ammo dumps, railroads and just about anything that moved to choke off the flow of supplies to the Axis front line.

"There is a Way: The 421st Tactical Fighter Squadron 'Fighting Cavaliers' and their F-105 Thunderchiefs in Vietnam" NEW This is the best documentary showing an Air Force unit from the Vietnam War I've seen. It's a lot more than your average USAF "information" film. Shot in November, 1966, this up close and personal look at the 421st Sq, 388th TFW has everything from exciting footage of a bombing raid on Hanoi, dodging SAMs and fighting Migs, to feverish overnight activity to repair and rearm the big "Thuds" at their base at Korat, Thailand.

"Submarine Warfare in the Pacific" In addition to being a World War 2 aviation fan, here's nothing I enjoy more than a good sub story! This film was completed shortly after the end of the War and contains rare footage on US submarine operations you won't find anywhere else. There is a cameo appearance by Japanese Fleet Admiral Nagano who discusses (in English) the effect of US sub operations on the ability of the Japanese to make war. That because the "pig boats" inflicted military and transport losses on the enemy that were far beyond their own tiny numbers. The program is introduced by Vice Admiral Charles A. Lockwood, Jr, the legendary commander of Pacific submarine forces (COMSUBPAC) and narrated by Gene Kelly.

"Profile of a World War 2 Test Pilot" This film was developed at the Army Air Corps top secret Wright Field flight test facility during World War 2 to give pilots the low down on what to expect if they joined their aircraft testing program. As such, the film is both very informative, with plenty of info about flight testing at that time, including climb, level flight, take off and landing, test instruments, and pilot responsibilities. But, there is much more. You also get a look behind the curtain at Wright Field at some of the rarest and most bizarre aircraft produced during World War II.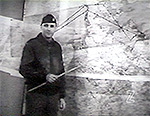 "Target for Today" This is THE classic World War II feature length documentary detailing a "maximum effort" American daylight bombing mission deep into Germany. There are no actors or recreations in "Target For Today. This film was shot on location under combat conditions and features the officers and men of the 8th Air Force going about their deadly business. All aspects of an actual major raid in 1943, from early planning through final touch down and crew debriefings, are covered in this very thorough account. Anklam. Danzig and the FW-190 plant at Marienburg are the targets hit. Although the results of the bombing campaign thorgh 1943 are exagerated, the heavy toll taken on Allied bombers is very apparent.
If you haven't stopped by Zeno's Drive-In before, we also show 1940-45 vintage WWII Army & Navy films and pilot's manuals on how to fly the F4U, F6F, P-38, P-39, P-40, P-47, P-51, P-61, TBF/TBM, AT-6/SNJ, B-17, B-24, B-25, A-20, A-26, B-26, B-29, and Stearman N2S. Alert! - don't miss the F-86 & B-58!
Zeno
Zeno's Warbird Video Drive-In
World War II Aviation Videos Playing Online 24/7
http://www.zenoswarbirdvideos.com
Now on Twitter @ZenosWarbirds
Web Videos: Thundering P-47s, WW2 Test Pilots, F-105s, WW2 Subs, 8th AF Bombers