Zeno's Warbird Video Drive-In June 2012 Newsletter
Hello World War 2 aircraft fans --
This month we're commemorating the 68th anniversary of the D-Day landings, the 70th anniversary of the Battle of Midway & more!
You are invited to drop by Zeno's Warbird Video Drive-In
http://www.zenoswarbirdvideos.com
o view this months selection of seven action packed World War 2 videos streaming over the Web. We have moved all our videos to YouTube to improve quality. Check out the directional stereo sound on "Saipan Superforts!"
As always, all of the videos showing on our web site are for your free viewing pleasure. Please help "spread the word" by liking us on Facebook!
My thanks to Military Quotes for permission to post in this forum.
Now showing "At the Matinee" at Zeno's Drive-In
http://zenoswarbirdvideos.com/MATINEE.html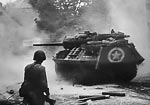 "The True Glory: From D-day to the Elbe" Academy Award Winner 1945" Restored print from archival footage. "The True Glory" tells the breathtaking story of the Allied sweep across Northern Europe, seen through the lenses of hundreds of Combat Cameramen from the USA, Canada, France, Poland, Belgium, the Netherlands, Czechoslovakia, Norway, Great Britain and captured German footage. This is not just the masterful telling of a story of a generation that needs to be remembered and retold, it is an inspiration to us all. In these troubling times, this is a film that will give you strength, make you stand up and cheer and share with friends and family.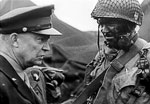 "Normandy: The Airborne Invasion of Fortress Europe" This film was produced during the war to show the strategic and tactical planning that went into the airborne component of the D-Day invasion as well as document actual operations. Of special interest is the detailed depiction of the development of glider transport and doctrine. Great footage of 82nd & 101st Division paratroopers. If you think you've seen all the surviving footage about Normandy operations, this film will be an eye opener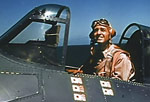 John Fords "The Battle of Midway" Academy Award Winner1942. Restored color print. This stirring documentary was shot by director John Ford during the intense June 4th Japanese carrier plane attacks on Midway Island and by Navy Combat Cameramen aboard the USS Yorktown during the epic carrier battle, along with color gun camera film of air to air and air to sea combat.. Highlights include memorable scenes from the Marine Base on Midway, B-17s leaving to attack the Japanese fleet, patrolling PBYs, action packed Japanese attacks on the Yorktown and Midway, and up close shots of the Yorktown's squadron VF3 and their F4F Wildcats.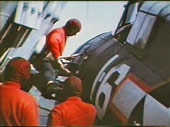 "Landing & Re-Spotting World War 2 Aircraft Carrier Planes" During the battle of Midway, when American dive bombers caught the Japanese carriers Akagi and Kaga with decks full of refueling and re-arming planes, the resulting catastrophe for the IJN was a turning point in World War II. These unique films offer a rare look (in color) at how US Navy carrier flight deck crews were trained to quickly land, park, fuel & re-arm and relaunch aircraft

"World War 2 Machine Gun Shootout- US vs German" "Automatic Weapons: American vs. German" uses a pair of memorable shootouts to compare the relative strengths of the US weapons with their captured German counterparts. A Thompson and an M-3 "Grease Gun" face off against the German MP-40, and then the light and heavy versions of the American Browning .30 caliber face off against the German MG-34 and MG-42.
"Saipan Superforts: Thundering B-29s!" Exclusive original documentary with restored color & directional stereo sound. This amazing footage shows the 73rd Bomb Wing, based on the island of Saipan in the Marianas, operating against Japan in early 1945. You'll see B-29 pilots & crews on R&R and on mission in their magnificent Superfortresses. There's a gallery of memorable 73rd Bomb Wing nose art too -- all in living color. "The "maximum effort" take-off scene is an awe inspiring combination of 18 cylinder engine roar and a musical score that's guaranteed to raise goose bumps.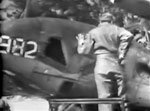 "P-38 Reconnaissance Pilot" starring William Holden. Photo recon pilots (Photo Joes) had one of the riskiest, highest impact jobs in the war. Flying camera equipped, unarmed, and often unescorted aircraft -- in this case the Lockheed F-5, a "stripped down" P-38 -- pilots flew deep into enemy territory. Reconnaissance Pilot follows "Packy Cummings" from basic training to the skies over New Guinea.
If you haven't stopped by Zeno's Drive-In before, we also feature 1940-45 vintage WWII Army & Navy films and pilot's manuals on how to fly the F4U, F6F, P-38, P-39, P-40, P-47, P-51, P-61, TBF/TBM, AT-6/SNJ, B-17, B-24, B-25, A-20, A-26, B-26, B-29, and Stearman N2S. Alert! - don't miss the F-86 & B-58!
http://zenoswarbirdvideos.com/main.html
Free admission for all. That's over 14 hours of rockin' World War II prop & jet videos over the Internet!
Zeno
Zeno's Warbird Video Drive-In
World War II Aviation Videos Playing Online 24/7
http://www.zenoswarbirdvideos.com/
Now on Twitter @ZenosWarbirds
Web videos: D-Day, Midway, Thundering B-29s, WW2 MG Shootout & P-38s