Zeno's Warbird Video Drive-In Big May 2015 Newsletter
Hello World War 2 & jet aircraft fans –
You are invited to drop by Zeno's Warbird Video Drive-In
http://www.zenoswarbirdvideos.com
to view our May selection of eight exciting films streaming over the Web in broadband with two premiers!
As always, all of the videos showing on our web site are for your free viewing pleasure. Please help "spread the word" by liking us on Facebook!
My thanks to Military Quotes for permission to post here.
Now showing in May "At the Matinee" at Zeno's Drive-In. Free admission!
http://www.zenoswarbirdvideos.com/MATINEE.html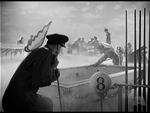 *Learn & Live: Pilot Safety for World War 2 Airmen NEW -- digitally restored. Pilot deaths during training were all too frequent in World War 2, a grim fact that was kept from the public, but was a matter of grave concern to the Army Air Corps. Shown only to pilots, this wonderful film, "Learn & Live," is a unique combination of an entertaining, sometimes surreal storyline, with practical nuts and bolts safety training. Saint Peter gives "Joe Instructor" a temporary pass to "Pilot Heaven," because he's concerned that so many more young trainees are coming up stairs before their time, due to ignoring procedures or excessive bravado. What follows are a dozen case studies of how recent arrivals, wearing angels wings, shooting pool & playing cards, met their fates, told with pointed, often sarcastic humor!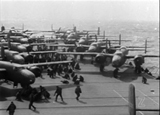 *The Life & Death of the USS Hornet NEW Digitally Restored This moving documentary tells the dramatic story of the legendary American aircraft carrier, the USS Hornet (CV-8), from her launching by Newport News Shipbuilding on Dec 14, 1941 through her dramatic loss on 27 October 1942 after the Battle of Santa Cruz off Guadalcanal in the Solomon Islands. In between, you'll see some of the best footage we have of the Hornet's role in the launching of Col. Jimmy Doolittle's amazing B-25 bomber strike on Tokyo from here heaving flight deck on 18 April, 1942.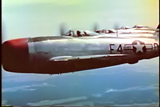 * The 362nd Fighter Group; On the prowl over Germany. Exclusive Color Documentary. This is an updated edition of the documentary that I produced on the 362nd Fighter Group 9 years ago. I've added sound effects from real P-47s & .50 cal machine guns, tightened up the edit & added some new info. I created this original documentary on the 362nd Fighter Group from unedited archival footage that I digitally restored. IMHO, its some of the most exciting P-47 Thunderbolt action to come out of World War 2! Wherever possible, I Identified the pilots, locations and aircraft.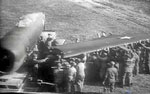 *Uncrating & Field Assembly of the P-47 Thunderbolt This truly remarkable step-by-step training film shows how a ground support crew of fifty men could assemble a P-47 in a field using nothing more than muscle, unpowered hand tools, and pieces of the shipping crate it came in. We're talking nothing more than hammers, wrenches and bicycle pumps! You'll also get a unique look at the inner workings of the big Jug as it is literally bolted together by field personnel. A must see for P-47 fans and shade tree mechanics alike! "One of my personal favorites!" Zeno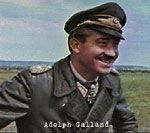 * Luftwaffe Finis - The End of the German Air Force Exclusive Color Documentary I produced this documentary from unedited, silent footage. Recently discovered color film of top Luftwaffe leaders and pilots taken as they fell into Allied hands at the end of World War II. You'll see startlingly realistic color footage of Herman Goering, Albert Kesselring, Adolf Galland, Hans Ulrich Rudel and many more. This video has had more than 1,400,000 views!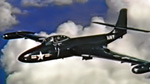 * US Navy Fighter Tactics. Restored Color. "Aerial Tactics: High Speed, High Altitude Flight Problems" was produced by the Navy Department during the Korean War. It's a fascinating look at US Navy carrier jet aircraft tactics in the 'guns only' Korean War era. I did digital image and audio restoration on this video.
*Flexible Aerial Gunnery: Making a World War 2 Gunner. This Army Air Force training film is the best look inside a World War 2 aerial gunnery school we have seen. Developed to be shown to trainees at the beginning of their course, its a thorough step by step preview of what to expect. Some of the many things you'll see: the role of the instructor, .30 &.50 caliber machine guns, dealing with jams, compensating for bullet drop, estimating range and leading targets, bore sighting and harmonization & a lot more.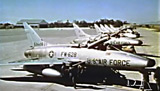 * The US Air Force in Vietnam. I did a shot-by -shot restoration of this film. This wide ranging USAF video covers the rapid expansion of the US Air Force's roll in the Vietnam War in the mid 1960s. Bases are set up at Cam Ran Bay, Phan Rang, Bien Hoa and other sites. A wide range of aircraft are shown in action including F-100 Super Sabres, F4 Phantoms, F-104 Star Fighters, F-102 Delta Daggers, F-105 Thunder Chiefs, A-1 Skyraiders, B-52 and B-57 bombers and more. -
We also show 1940-45 vintage WWII Army & Navy films and pilot's manuals on how to fly the F4U, F6F, P-38, P-39, P-40, P-47, P-51, P-61, TBF/TBM, AT-6/SNJ, B-17, B-24, B-25, A-20, A-26, B-26, B-29, and Stearman N2S. Alert! - don't miss the F-86, B-47 & B-58,
Zeno
Zeno's Warbird Video Drive-In
World War II Aviation Videos Playing Online 24/7 – Free Admission
http://www.zenoswarbirdvideos.com
Now on Twitter @ZenosWarbirds
Zeno's Flight Shop Aviation DVDs
Your purchases make Zeno's Drive-In free videos possible!
http://www.zenosflightshop.com
Web Videos:WW2 Pilot safety,USS Hornet,P-47 Thunderbolts,Navy Fighter Tactics,USAF in Vietnam