Zeno's Warbird Video Drive-In Big October 2016 Newsletter
Hello World War 2 & jet aircraft fans --
You are invited to drop by Zeno's Warbird Video Drive-In
http://zenoswarbirdvideos.com
to view our October 2016 selection of eight exciting films streaming over the Web in broadband, including two premieres!
As always, all of the videos showing on our web site are for your free viewing pleasure. Please help "spread the word" by liking us on Facebook!
My thanks to Military Quotes for permission to post here.
Now showing in October "At the Matinee" at Zeno's Drive-In Free admission!
http://zenoswarbirdvideos.com/MATINEE.html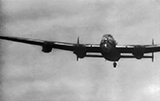 * The RAF Sinks the German Battleship Tirpitz. NEW! Restored "Operation Catechism," the final British attack on the German battleship Tirpitz, the Bismarck's surviving sister ship, took place on 12 November 1944. The ship used her main 38 cm guns against the bombers, which approached the battleship at 09:35, forcing them to temporarily disperse, but did not turn back the attack. 32 Lancaster bombers from Nos. 9 and 617 Squadrons dropped 29 12,000 lb Tallboys on the ship,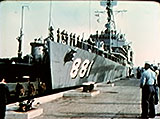 *Destroyermen - Life aboard a Cold War U.S. Navy DD. Restored Color NEW! This is a rare up close and personal look at daily life aboard US Navy destroyers on duty with the 6th fleet in the Mediterranean in the early 1960s. Featured ships include USS Bordelon (DD-881), USS Strong (DD-758), and USS Gearing (DD-710). You'll see a wide range of activities including a submarine alert, gunfire drill including shots inside the 5. gun turret, engine room operations, refueling at sea, and liberty ashore in Athens, Greece. A memorable color snap snapshot of a bygone era.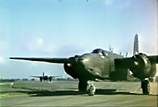 * A-20 Attack Bombers in Color plus 416th BG Scrapbook 1945. Exclusive Documentary! Restored.
This is an original documentary. See rare color footage of 416th Bomb Group A-20 Havoc (aka Bostons) attack bombers taken before the Group transition to A-26s in the fall of 1944 -- plus many memorable still photos from Group photog, Sergeant Cachat. Includes over 200 pictures, including dramatic combat shots, detailed photo analysis of target strikes in France, Belgium, and Germany, and some of the most memorable crew photos we've ever seen.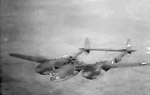 *P-38:Angel in Overalls. This film was developed to show US Lockheed P-38 production line workers the Lightning at war in a wide variety of combat roles. The dramatic framing for the piece involves a straggling B-24 that is saved from certain destruction by the arrival of "Angels in Overalls" -- P-38s. You'll see all aspects of Lightnings in action, including air-to-air gun camera, bombing, rocketing and photo recon. There's a cameo by Air Corps P-38 ace of aces Dick Bong too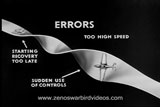 * Acrobatics for World War 2 Fighter Pilots featuring the Fairchild PT-19 This Army Air Corps training film covers the basic acrobatic maneuvers every fighter pilot should master before heading into combat, including Immelmans, loops, snap, half & slow rolls, vertical reverses and more. This is a very detailed, hands on training film, showing the role of control surfaces, precise live action stick and rudder movements for each maneuver and common errors and how to avoid them. The agile Fairchild PT-19 trainer is a star performer.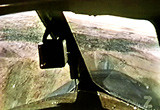 * B-58 Hustler Low Level Bombing Capability. The supersonic B-58's ability to hug the ground at very high speed without the benefit of fly by wire computer control was amazing! I digitally restored this video. This is a simulated low level, long range attack launched from Carswell AFB in Texas against Edwards AFB in California. Much of the mission is flown at 700 mph and above at ground hugging altitude below 500 feet. The B-58 exhibited exceptional handling characteristics. Sensational from-the-cockpit views of the Hustler booming along over mountains and prairie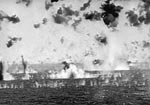 * The Fleet that Came to Stay. In March, 1945, the US Army, Navy and Marines, with the support of the British Pacific Fleet, launched "Operation Iceberg" against the Japanese Island of Okinawa, in the Ryukus, a key stepping stone for the invasion of the Japanese home islands. US troops landed successfully, leading to one of the bloodiest land battles in World War II. In response over the next tree months, the Japanese launched a series of terrifying kamikaze suicide aircraft attacks from land bases only 350 miles away against the screening Allied naval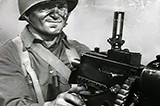 *The Employment of Heavy Machine Guns in the Attack. In the popular mind, the heavy machine gun is usually thought of as a supremely effective defensive weapon. This unique film shows various infantry tactics that can be used to make it a potent part of offensive operations as well. The featured weapon in this US Army World War 2 training film is the Browning M-1917 water-cooled .30 caliber "heavy" machine gun, perhaps selected with the idea that if the big Browning could be lugged forward in an offensive maneuver, anything could be
We also show 1940-45 vintage WWII Army & Navy films and pilot's manuals on how to fly the F4U, F6F, P-38, P-39, P-40, P-47, P-51, P-61, TBF/TBM, AT-6/SNJ, B-17, B-24, B-25, A-20, A-26, B-26, B-29, and Stearman N2S. Alert! - don't miss the F-86, B-47 & B-58!
Zeno
Zeno's Warbird Video Drive-In
World War II Aviation Videos Playing Online 24/7
Zeno's Flight Shop DVD Store
World's largest selection of WW2 & vintage jet videos
http://www.zenosflightshop.com
Your purchases make all this possible!
Now on Twitter
zeno
sWarbirds
Videos: Tirpitz Sunk, Destroyermen, P-38s,Fighter Acrobatics, A-20s, B-58s & more