Zeno's Warbird Video Drive-In March 2014 Newsletter
Hello World War 2 & jet aircraft fans --
You are invited to drop by Zeno's Warbird Video Drive-In
http://www.zenoswarbirdvideos.com
to view our March selection of eight exciting aviation streaming over the Web in broadband. There are six premiers, including our first "Spaghetti War Movie!"
As always, all of the videos showing on our website are for your free viewing pleasure. Please help "spread the word" by liking us on Facebook!
My thanks to Military Quotes for permission to post here.
Now showing in March "At the Matinee" at Zeno's Drive-In Free admission!
http://zenoswarbirdvideos.com/MATINEE.html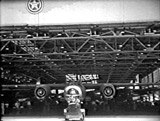 * Building a Bomber - The Martin B-26 Marauder- 1945 NEW! See production of a World War 2 Martin B-26 medium bomber from metal casting through final assembly. Set at the Martin aircraft plant in Marietta Georgia.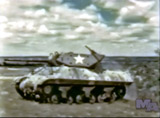 * Tank Destroyer Boot Camp -1943 NEW! Restored Color This unique color documentary gives a rare look inside the Camp Hood, TX, tank destroyer troop training school in 1943. Includes up close looks at M 10 Tank Destroyers and camp facilities. Highlights include target practice using field guns and M10s against moving targets, field maneuvers against tanks, live fire exercises, armored infantry assaults and bazooka training.
* River Patrol: US Navy Mekong River Delta Operations in Vietnam - 1967 - Restored Color NEW! I spent restored the color in this US Navy film and am very pleased with the results. The USS Harnett County (LST-821) served as a floating base in the China Sea for PCF swift boat and helicopter patrol operations in the Mekong River Delta during the Vietnam War. The labyrinthine Delta was a hot zone in the war against well organized Viet Cong insurgents, immortalized by the film "Apocalypse Now." This beautifully photographed film is the real thing -- a "slice of life" documentary showing daily operations aboard the Harnett County and exciting action on swift boat river patrols & Huey helicopter gunship ground support missions. Highly recommended!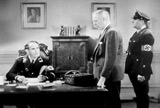 * John Fords "Under Cover: How to operate behind enemy lines in World War 2 -1943 NEW! This is the first film ever made on how to be a spy in enemy territory produced by a secret intelligence service to train agents. It's not everyday I discover a virtually unknown feature film by an Oscar Winning director, let alone one that contains his only speaking role in a talking picture. Hollywood legend John Ford directed this training film during World War 2 on the art of espionage for the O.S.S (Office of Strategic Services, forerunner of the C.I.A).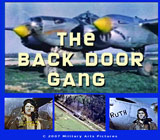 * Back Door Gang P-38si n Color Newly discovered color film of the 430th FS, 474th FG, 9th Air Force. From the get go, the 474th was configured as a ground attack unit, but they also provided bomber escort and level bombing, led by Norden bomb sight equipped "Droop Snoots," which are shown here. One of three P-38 squadrons in the 474th, the 430th's call sign was "Back Door," and its planes and pilots are featured in the film in the Spring of 1945 at their base in Florennes, Belgium, a former Luftwaffe night fighter base.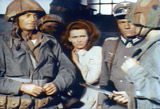 * Hell in Normandy Restored Color NEW! This 1960's era Italian cinema factory "Spaghetti War Movie" has a preposterous plot full of historical inaccuracies, poorly chosen locations, cheap special effects, ham acting, corny badly dubbed dialogue, a sexy Italian actress and features Hollywood B movie star Guy Madison. In other words, what's not to like?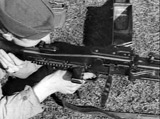 * German Infantry Small Arms -1944 NEW! Captured German arms were used in this World War 2 era US Army training film to familiarize American troops with the weapons of their enemy.(Who knows, maybe they thought they might have to be used in combat if you ran out of ammo.) The 9mm "Schmeisser" MP-40 machine pistol, the 7.92mm MG-34 machine gun, 7.92mm MG 42 machine gun and the 7.92mm 1898K Mauser rifle are all demonstrated.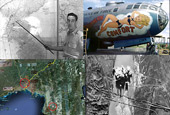 * B-29s Over North Korea Exclusive original documentary. I created this videos from a recently found reel of silent, unedited and undocumented footage shot by the US Air Force in Korea in August-September, 1950, for a documentary that was never released. The highlight of the film shows an early morning briefing for 19th Bomb Group (28th, 30th and 98th Bomb Squadrons) at Kadena Air Base on Okinawa. Memorable B-29 nose art in full color!
We also show 1940-45 vintage WWII Army & Navy films and pilot's manuals on how to fly the F4U, F6F, P-38, P-39, P-40, P-47, P-51, P-61, TBF/TBM, AT-6/SNJ, B-17, B-24, B-25, A-20, A-26, B-26, B-29, and Stearman N2S. Alert! - don't miss the F-86, B-47 & B-58!
Zeno
Zeno's Warbird Video Drive-In
World War II Aviation Videos Playing Online 24/7
http://www.zenoswarbirdvideos.com
Now on Twitter @ZenosWarbirds
Web Videos: Building B-26s, WW2 Tank Destroyers, Mekong Patrols, P-38s, B-29, WW2 Under Cover & more