The government in Krasnodar Krai, Russia, is, apparently, worried about the reemergence of the
oseledec
hairstyle among their local, Kuban, Cossack population.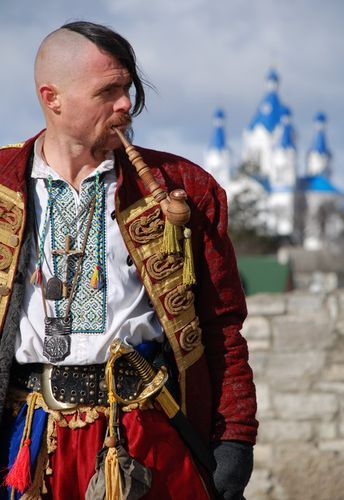 I suppose in a way I understand why they are concerned.
When our men wose the
oseledec
, hundreds of years ago, was when we were a wild, uncontrollable people, in fact, that is what the Tsar's troops, sent to try to reign us in, referred to those Cossacks as,
dikie
, 'wild ones'.
Back then, we looked like this:
And yes, we befriended wolves too.

Runaway serfs, or children of runaway serfs who mated with steppe nomads, Kasogi, the fiercest, most violent, viscious and bloody of all Circassian peoples, whose name we adapted as our own, and who are also ancestors of present day Adygs and Abkhazs, so why we and them are like brothers now.
Anyway, possibly due to their past of slavery, our ancestors had no organized government, because they tended to kill anyone who tries to tell them what to do, cut the head off and chopped the body into pieces and fed the pieces to the wolves (believe me, I wish I was making this up).
And our ancestors were great fighters too. Mostly because they did not know fear or mercy, they held nothing back. I suppose they were psychotic in some way, many of them. According to some legends from back then, they did not feel pain or could ignore it somehow, some even fought on after losing a limb... And from the Kasogi they got our present-day skill with the
shashka
Circassian sabre, which we also carry to this day, though mostly as a ceremonial and traditional attribute novadays
By the time whatever Tsar ruled back then (cannot remember now) managed to subdue our forefathers, he had to sign piece treaties with all his external enemies, because his army could no longer fight anyone, for years to come: half the troops lay dead, and of the remaining half, two thirds were wounded, quite a few crippled for life.
So, yes, hehe I get that Russian rulers get, let us say, jumpy, when traditions from
those
times are gaining in popularity... I still think it is silly. Modern Cossacks live and breathe on loyalty to Russia. Most of us would cut our
own
heads off, before we'd turn against her somehow... But, hey, let them fear us. We like that. And we
are
proud of that war. You can say it was our own Sparta moment