Zeno's Warbird Video Drive-In October 2011 Newsletter
Hello World War 2 aircraft fans --
You are invited to drop by Zeno's Warbird Video Drive-In
http://www.zenoswarbirdvideos.com/
to view this months flight of six classic World War 2 aviation videos streaming over the Web.
This month we're showing nonstop air action in the skies over Europe with six action packed features.
As always, all of the videos showing on our web site are for your free viewing pleasure.
My thanks to Military Quotes for permission to post in this forum.
NEW Follow us on Twitter
http://twitter.com/ZenosWarbirds
to see previously unreleased videos from Zeno's vault, sneak previews of new productions and more!
Now showing "At the Matinee" at Zeno's Drive-In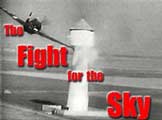 "The Fight For The Sky: Allied fighters win air superiority over Europe" In February 1944, General Jimmy Doolittle "turned loose" his fighters to go after the Luftwaffe where they lived in Western Europe. This marked a radical change in strategy from the disastrous tactics of 1943 that kept escorting fighters chained to bombers Now, US fighters, including the P-51, probed deep into Germany, catching the opposition on the ground. This feature combines thrilling combat footage with some of the most action packed, down and dirty World War II gun camera film you'll ever see. This is the original, uncut 40-minute version of "The Fight for the Sky."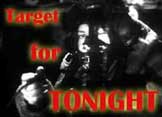 "Target for Tonight: RAF Bomber Command in a Night Action" follows the crew "F for Freddie," a Vicker's Wellington medium bomber (Millerton Station, Group 33), through an entire low level night mission attacking a oil storage depot at a rail yard. The film highlights the participation of not only servicemen from all classes from the British Isles, but also Canadians and a navigator that sounds a lot like a Yank volunteer. The film exemplifies the understatement, dry humor, and "business as usual" approach typical of British films of the period, along with a clear "get the job done" attitude.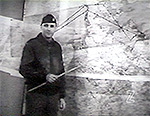 "Target for Today" This is the classic World War II feature length documentary detailing a "maximum effort" daylight bombing mission deep into Germany. There are no actors in "Target For Today." This film was shot under combat conditions and features the officers and men of the 8th Air Force going about their deadly business. All aspects of an actual major raid in 1943, from early planning through final touch down and crew debriefings, are covered in this very thorough account. Anklam. Danzig and the FW-190 plant at Marienburg are the targets hit. Although inflating the strategic bombing campaign's effectiveness through 1943, this is no sugar coated propaganda film. Over 1 and 1/2 hours of engrossing World War II footage
.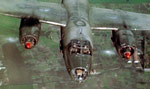 "White Tailed Marauders The 323rd Bomb Group and their B-26s" Exclusive Original Production - Rare color film of B-26 Marauders in action in the Spring of 1945. See the 453rd, 454th, 455th, and 455th Bomb Squadrons operating against Germany from their base in Laon, France. All color footage really brings this bygone era startlingly back to life. Where possible, individual aircraft and their crews are identified. Special treats include escorting P-38s and a round trip mission. A must for Marauder fans everywhere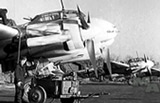 "Luftwaffe Night Fighters & more" Captured Newsreels. German combat cameramen were celebrities for a good reason. Supplementary text in English has been added, but the pictures tell the story here. Of course these films have an obvious propaganda slant, but they are also a unique collection of seldom seen World War 2 combat footage, often in very good to excellent condition, that shows events as they happened. Some highlights: Daily life on a Luftwaffe night fighter base including shots of leading Aces Leopold Fellerer (41) & Prinz zu Sayn-Wittentgenstein (83). Rommel visits the 21st Panzer Division (with many shots of armored vehicles) and Pips Priller's JG 26 fighter squadron in France. German FLAK units and Italian Macchi C.202 Folgore fighters oppose Allied air attacks in Italy. Luftwaffe pilots take a ski vacation.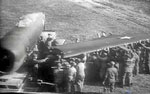 "Uncrating and Field Assembly of the P-47 Thunderbolt" Thistruly remarkable step-by-step training film shows how a ground support crew of fifty men could assemble a P-47 in a field using nothing more than muscle, unpowered hand tools, and pieces of the shipping crate it came in. We're talking nothing more than hammers, wrenches and bicycle pumps! You'll also get a unique look at the inner workings of the big Jug as it is literally bolted together by field personnel. A must see for P-47 fans and shade tree mechanics alike!
If you haven't stopped by Zeno's Drive-In before, we also feature 1940-45 vintage WWII Army & Navy films and pilot's manuals on how to fly the F4U, F6F, P-38, P-39, P-40, P-47, P-51, P-61, TBF/TBM, AT-6/SNJ, B-17, B-24, B-25, A-20, A-26, B-26, B-29, and Stearman N2S. Alert! - don't miss the F-86 & B-58!
Free admission for all. That's over 14 hours of rockin' World War II props & jets for free viewing over the Internet!
Zeno
Zeno's Warbird Video Drive-In
World War II Aviation Videos Playing Online 24/7
http://www.zenoswarbirdvideos.com/
Now on Twitter @ZenosWarbirds
WW2 Videos: USAF & RAF bomb the Nazis day & night, fighters attack & more