Zeno's Warbird Video Drive-In Big March 2011 Newsletter
Hello World War 2 Aircraft fans --
You're invited to throttle back, drop your gear and stop by
Zeno's Drive-In
www.zenoswarbirdvideos.com
for this month's flight of six exciting aviation & combat documentary films playing over the Internet. We're showing a new premier and five of my favorite classics.
Please help spread the word -- "Like" us on Facebook!
As always, all of the videos showing on our web site are for your free viewing pleasure.
My thanks to Military Quotes for permission to post here.
Now showing "At the Matinee" at Zeno's Drive-In

Ramrod to Emden
Exclusive - Restored film print. The56th Fighter Group was one of the most storied Air Corps units of World War II. Home to aces like David Schilling (22 kills), Frances "Gabby" Gabreski (28), Robert S. Johnson (27), Fred Christensen (21.5), Walker Mahurin (21), and CO Hubert "Hub" Zemke (18), the 56th blazed an early trail across the skies of the ETO in their massive, but deadly P-47 Thunderbolts, ."Ramrod to Emden" is the story of the Dec 11, 1943 bomber escort mission (aka "a ramrod") to Emden, Germany. As you'll see in the film, the 56th encountered heavy, determined opposition from Germans, but it proved to be an exceptionally productive day. With Lt. Col. Schilling leading 50 planes of the group, they claimed 17-0-5, with two aircraft lost in a midair collision and no aircraft lost to enemy action. Allied bomber losses were minimal.

A-26 Invaders Attack!
The 416th Bomb Group in ColorExclusive color corrected original documentary from Military Arts Pictures. Legendary SFP 186 combat cameramen rode along with 416th Bomb Group A-26 Invaders during March and April, 1945 with color film loaded in their cameras. The results are some of the most beautiful and dramatic footage to come out of the World War II. You'll see fleets of silver fast attack bombers soaring through towering cumulus clouds before unloading torrents of bombs deep inside the Third Reich. An added bonus is a cache of remarkable still pictures taken by 416th Group (668th, 669th, 670th and 671st Bomb Squadrons) staff photog Sergeant Cachat showing A-26s on location and their crews.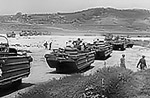 Operation InchonNEW
This documentary tells the fascinating story of Douglas MacArthur's amphibious landing at the port of Inchon behind enemy lines in Korea in October, 1950. This brilliant move led to the liberation of the South Korean capital, Seoul, and a dramatic reversal in the course of the war. Previously victorious North Korean forces were out flanked and forced into a pell-mell retreat back north of the 38th Parallel, almost to the Siberian border. The 1st Marine Division, backed by the 7th Infantry, US Airborne and ROK forces surprised the communists at Inchon, making the most of naval and air superiority.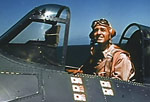 John Ford's Battle of Midway
Digitally restored. Directed by four time Oscar Winner John Ford New Color Corrected Edition from archival sources. This stirring documentary was shot by Director John Ford during the intense June 4th Japanese carrier plane attacks on Midway Island and by Navy Combat Cameramen aboard the USS Yorktown during the epic carrier battle, along with color gun camera film of air to air and air to sea combat. Highlights include memorable scenes from the Marine Base on Midway, airfield B-17s leaving to attack the Japanese fleet, patrolling PBYs, action packed Japanese attacks on the Yorktown and Midway, and up close shots of the Yorktown's squadron VF3 and their F4F Wild Cats, including aces John S. "Jimmy' Thach ("The Thach Weave").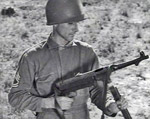 Automatic Weapons: American vs. German
This film was produced by the War Department to familiarize American troops with the actual sound and performance of various German automatic weapons including the Schmeisser MP-40 machine pistol and the MG-40 and MG-42 machine guns. The higher rate of fire of the German weapons was cause for concern. The film uses a pair of memorable "shoot outs" to compare the relative strengths of the US weapons with their captured German counterparts. A Thompson and an M-3 "Grease Gun" face off against the German MP-40, and then the light and heavy versions of the American Browning .30 caliber face off against the German MG-34 and MG-42.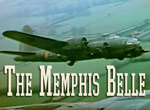 The Memphis Belle
Color corrected video! The classic film chronicles the 25th mission of the Boeing B-17 Memphis Belle, striking the all important U-boat submarine pens at Wilhelmshaven. This is the original wartime documentary, written and directed by legendary Academy Award winner William Wyler. You'll see Capt Robert Morgan and the men of the B-17 "Memphis Belle," 324th Squadron, 91st BG, going about their deadly business in rare Technicolor footage.
If you haven't stopped by Zeno's Drive-In before, we also feature 1940-45 vintage WWII Army & Navy films and pilot's manuals on how to fly the F4U, F6F, P-38, P-39, P-40, P-47, P-51, P-61, TBF/TBM, AT-6/SNJ, B-17, B-24, B-25, A-20, A-26, B-26, B-29, and Stearman N2S. Alert! - don't miss the F-86 & B-58! Free admission for all. That's over 14 hours of rockin' World War II props & jets for free viewing over the Internet.
Keep em flying!
Free admission for all. That's over 14 hours of rockin' World War II props & jets for free viewing over the Internet!
Zeno
Zeno's Warbird Video Drive-In
World War II Aviation & Jet Aircraft Videos Playing Online 24/7
http://www.zenoswarbirdvideos.com/
Web Videos: Zemke's Thunderbolts, A-26 Invaders, WW2 Machine Guns, Midway, Inchon & more