Zeno's Warbird Video Drive-In April 2014 Newsletter
Hello World War 2 & jet aircraft fans --
You are invited to drop by Zeno's Warbird Video Drive-In
http://www.zenoswarbirdvideos.com
to view our April selection of eight exciting WW2 & vintage jet videos streaming over the Web in broadband. There are four premiers!
As always, all of the videos showing on our website are for your free viewing pleasure. Please help "spread the word" by liking us on Facebook!
My thanks to Military Quotes for permission to post here.
Now showing in March "At the Matinee" at Zeno's Drive-In Free admission!
http://zenoswarbirdvideos.com/MATINEE.html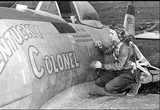 * 9th AF 362nd Fighter Group P-47 Thunderbolts in Action NEW! I produced this original documentary from dark, faded, silent gun camera film footage from the Spring of 1945 over Germany that I digitally restored I've added additional info about the pilots and planes and real P-47 sound effects. Featured pilots from the 362nd FG are Alvin Lieberman, Robert A Jackson and the legendary Wilfred Crutchfield, flying his P-47 "Kentucky Colonel," attacking a wide variety of ground targets.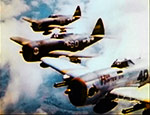 * Thunderbolt! Exclusive restored color edition with additional footage never shown in theaters!"Thunderbolt!" chronicles the exploits of the P-47 Thunderbolt pilots of the 65th Fighter squadron, 57th Fighter Group. Based on the island of Corsica off the northwest coast of the Italian boot, the 57th FG flew from behind the enemy's flank. As part of "Operation Strangle," they continuously attacked highways, bridges, ammo dumps, railroads and just about anything that moved to choke off the flow of supplies to the Axis front line. A true classic!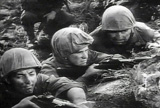 * Gung Ho! The Story of Carlson's Makin Island Raiders (Restored) NEW! This classic Hollywood war movie is based on the true-life World War II Makin Island raid on Japanese forces by Lieutenant Colonel Evans Carlson's 2nd Marine Raider Battalion (17--18 August 1942). The mission was to destroy installations, take prisoners, gather intelligence on the Gilbert Islands and divert Japanese attention from Allied landings on Guadalcanal and Tulagi. An all star cast includes Randolph Scott, Robert Mitchum, J. Carol Naish, Rod Cameron and Noah Beery Jr.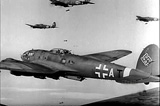 * Axis War News 1941-1944. Digitally Restored) NEW! Some highlights:German air & naval forces (Tirpitz!) attack Allied convoys to Murmansk. Italian Sub Barbarigo operating in the South Atlantic. German & Italian forces attack an allied convoy in the Med. The fight for the Red October Factory in Stalingrad. The battle before Leningrad. Rommel's Afrika Korps is resupplied. German defensive lines and fortifications in Italy. HE 111 bomber attacks on the Eastern Front. Axis forces defend the "Kuban Bridgehead" against Soviet attacks. Elite German assault boat troops fight in the Kuban River marshes. The German commerce raider "Thor's" epic voyage to Japan.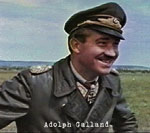 *Luftwaffe Finis: The End of the German Air Force. One of the most popular videos in our collection! I produced this original documentary from unedited, silent footage. Color film of top Luftwaffe leaders and pilots taken as they fell into Allied hands at the end of World War II. You'll see startlingly realistic color footage of Herman Goering, Albert Kesselring, Adolf Galland, Hans Ulrich Rudel and many more. Captured aircraft shown include an Me 262, the first jet fighter, and an FW 190. You'll be amazed when you see these color images out of the past.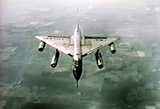 * Convair B-58 Hustler Supersonic Bomber Wins the Bendix Trophy Restored Color NEW! On March 5th, 1962, Capt Robert G Sauer & his crew in "Tall Man 55" took off from Carswell AFB, Fort Worth, Texas to break three transcontinental speed records in one day, over 4,500 miles in "Operation Heat Rise." The round trip was a total of 4 hours 41 minutes, including refueling, and all three times were transcontinental speed records.

* The Story of the Black Cat PBYs. This restoration was particularly satisfying for me. After many days of research including hours scanning the South West Pacific using Google Earth, the identities of the previously undisclosed secret PBY base shown in this film and the men who flew from it are revealed for the first time in this exclusive release. During World War 2, that info was "Top Secret" and kept from the public. One of the least known stories of the war in the Pacific, these night flying, black painted PBY "VPB" ('Patrol Bombing") squadrons spread destruction and chaos far out of proportion to their small numbers.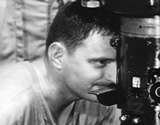 * Submarine Warfare in the Pacific. My web site is known for World War 2 aircraft films, but I also love a good sub story. This film was completed shortly after the end of the War and contains rare footage on US submarine operations you won't find anywhere else. I did additional research and added graphics to ID some of the important figures not identified in the original documentary.
We also show 1940-45 vintage WWII Army & Navy films and pilot's manuals on how to fly the F4U, F6F, P-38, P-39, P-40, P-47, P-51, P-61, TBF/TBM, AT-6/SNJ, B-17, B-24, B-25, A-20, A-26, B-26, B-29, and Stearman N2S. Alert! - don't miss the F-86, B-47 & B-58!
Zeno
Zeno's Warbird Video Drive-In
World War II Aviation Videos Playing Online 24/7
http://www.zenoswarbirdvideos.com
Now on Twitter @ZenosWarbirds
Web Videos: Thundering P-47s, Axis War News, B-58s, Adolf Galland, PBYs, WW2 Subs & more