Zeno's Warbird Video Drive-In November 2012 Newsletter
Hello World War 2 & jet aircraft fans –
You are invited to drop by Zeno's Warbird Video Drive-In
http://www.zenoswarbirdvideos.com
to view our November flight of six exciting classic aviation videos streaming over the Web. All our films are now showing in high quality broadband video.
As always, all of the videos showing on our web site are for your free viewing pleasure. Please help "spread the word" by liking us on Facebook!
My thanks to Military Quotes for permission to post here!
NEW See my photos of the beautifully restored American Airlines DC-3 "Flagship Detroit," one of the oldest still flying.
http://bitly.com/RJtKhs
The DC-3 has particular significance for me as it's the first aircraft I flew in as a little kid with my parents on old Capital Airlines. I visited the Captain's cabin in flight over Lake Michigan & they gave me a set of gold wings!
Now showing in November "At the Matinee" at Zeno's Drive-In
http://zenoswarbirdvideos.com/MATINEE.html
Free admission!

"354th Fighter Group P-51 "Mustang Pioneers Color Scrapbook – 1945." Exclusive production. Rare color film of the legendary 354 Fighter Group, with over 700 Kills, the highest scoring American unit in Europe. You'll see great aces like G.T. Eagleston and B.W. Carr at work and at play in their newly captured base in Germany in Spring, 1945.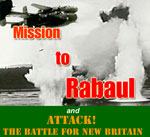 "Mission to Rabaul" Action in the South West Pacific 1943 Rabaul, a large natural harbor on the eastern end of the huge Island of New Britain (located northeast of New Guinea in the Southwest Pacific) was an essential strategic linchpin for the Japanese. They poured tens of thousands of troops, hundreds of airplanes, and thousands of tons of supplies and material into this base to make it a mighty fortress. The Allies' brilliant solution to the Rabaul conundrum was to isolate it, slowly starve it and bypass it -- rather than assault it directly. Nonstop action
"Operation Titanic: Shuttle Bombing Missions to Russia" 1944 U.S. 15 Air Force bombers and fighters based in Italy bombed targets in the East, land in Russia, refuel & rearm, and then hit another target on the way back. 8th Air Force bombers based in the UK did the same. The Soviets provided three bases in the Ukraine; heavy bombers at Poltava and Mirgorod and the fighters at Piryatin. The US provided material to substantially upgrade them.

"Convair B-58 "Hustler" MITO Tests 1963" (Restored Color) There's some beautiful B-58 take-off footage here, shot from many angles, including overhead helicopter shots of dual launches and afterburners lighting up the night. "MITO" - "Minimum Interval Take-Off," involved determining the optimum interval between the launching aircraft to achieve the fastest possible deployment, while avoiding jet thrust and wing turbulence from preceding aircraft while allowing an adequate safety margin in case an individual plane had to abort.

"News From the Front in North Africa 1942" (Restored Color) Shot In Technicolor by US Army, Navy and O.S.S. Cameramen in Morocco, Algeria and Tunisia, November-December 1942. A new archival release with color correction. Hands down some of the best color footage we have seen from World War 2. This was tough "on the job training" for the brand new American Army and Air Corps. Rare Tiger tank footage!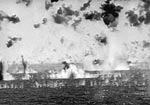 "The Fleet that Came to Stay - Kamikaze attacks off Okinawa 1945" In March, 1945, the US Army, Navy and Marines, with the support of the British Pacific Fleet, launched "Operation Iceberg" against the Japanese Island of Okinawa, in the Ryukus, a key stepping stone for the invasion of the home islands. US troops landed successfully, leading to one of the bloodiest land battles in World War II. In response over the next three months, the Japanese launched a series of terrifying kamikaze suicide aircraft attacks from land bases only 350 miles away against the screening Allied naval forces.
We also show 1940-45 vintage WWII Army & Navy films and pilot's manuals on how to fly the F4U, F6F, P-38, P-39, P-40, P-47, P-51, P-61, TBF/TBM, AT-6/SNJ, B-17, B-24, B-25, A-20, A-26, B-26, B-29, and Stearman N2S. Alert! - don't miss the F-86 & B-58!
Zeno
Zeno's Warbird Video Drive-In
World War II Aviation Videos Playing Online 24/7
http://www.zenoswarbirdvideos.com
Now on Twitter @ZenosWarbirds