Zeno's Warbird Video Drive-In May 2012 Newsletter - Sorry it's late this month!
Hello World War 2 & Jet aircraft fans --
You are invited to drop by Zeno's Warbird Video Drive-In
http://www.zenoswarbirdvideos.com
to view this months showing of six of my favorite classic World War 2 & jet documentary videos streaming over the Web
We have completed the task of moving hosting of all our videos on YouTube.
No more RealVideo or Windows media players required, so you can also watch them on your tablet or phone!
My thanks to Military Quotes for permission to post here.
As always, all of the videos showing on our web site are for your free viewing pleasure.
Please help "spread the word" by liking us on Facebook!
Now showing "At the Matinee" at Zeno's Drive-In
http://zenoswarbirdvideos.com/MATINEE.html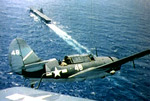 "The Fighting Lady" Restored color print from archival footage The Fighting Lady follows the fictional career of an Essex Class aircraft carrier from the Marcus Islands through the "Mariana's Turkey Shoot" and much more. All of the footage is real. You'll see dramatic action showing Hellcats, Hell Divers, Corsairs on deck and in the air, including exciting dive bombing, anti-aircraft, and gun camera footage and some amazing walkaway crash landings. A true classic

"The Thunderbolts: Ramrod to Emden" Restored print. The 56th Fighter Group was home to P-47 aces like David Schilling, Frances "Gabby" Gabreski, Robert S. Johnson, Fred Christensen, Walker Mahurin, and CO Hubert "Hub" Zemke. See an action packed "ramrod" bomber escort mission into Germany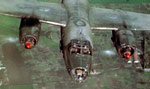 "White Tailed Marauders: The 323rd Bomb Group and their B-26s" Exclusive Production restored color print Rare color film of B-26 Marauders in action in the Spring of 1945. See the 453rd, 454th, 455th, and 455th Bomb Squadrons operating against Germany from their base in France.

"The Story of the Black Cat PBYs" Revised edition with restored print. This restoration was particularly satisfying. After many hours of archival research, the identities of the previously undisclosed secret PBY base shown in this film and the men who flew from it are revealed for the first time in this exclusive release. During World War 2, that info was all "Top Secret" and kept from the public. One of the least known stories of the war in the Pacific, these black painted PBY "VPB" ('Patrol Bombing") squadrons spread destruction far out of proportion to their small numbers.

"Sky Blitz: The German Airborne Invasion of Holland" This documentary on the airborne invasion of Holland in May 1941 was captured from the Germans and turned into a training tool by the US Army Air Corp. That's because it's a text book case of the effective use of airborne troops and influenced US doctrine. This dramatic, action filled film focuses on the capture and securing of a strategic lynch pin in the defense of Holland, the massive Moerdijk bridge. You'll see crack "Fallschirmjeager" troops seize the bridge in tact before it can be blown by the Dutch. (Although they captured the bridge, they failed to secure their final objective: the Hague and the airfields around it.) Useful maps portray tactical operations.
[IMG]https://zenoswarbirdvideos.com/Images/B-52Color150.jpg[/IMG]
"B-52 Vietnam: Operations Out of U Tapao Air Base, Thailand" -- exclusive color corrected video. (This year is the B-52's 50th birthday.) The focus of this dramatic film is an "Arc Light" bombing mission flown by Pilot Captain George Dietrich and the crew of B-52 D "075," 4258th Strategic Wing out of U Tapao, Thailand in support of the besieged marine base at Khe Sahn in 1968. You'll see every aspect of the mission from Wing briefing, pre-fight check & takeoff, through the bomb run and final touch down. But this is much more than a typical Air Force information film -- it's more like a home movie. You'll see Capt. Dietrich and his crew relaxing in a grass hut, sipping PBRs at the end of the runway, shooting the bull & watching the big Buffs takeoff. 258th CO, Brigadier General Alex W. Talmant, who flew 100 missions himself, supplies an honest, straight forward narration that stresses empowering junior officers. Also includes briefings from "the brass at Mac V headquarters, but the real stars of the film are the men of the 4258th. You'll see them up close, going about their business maintaining and arming the big B-52s along with behind the scenes glimpses of field operations at U-Tapao
If you haven't stopped by Zeno's Drive-In before, we also feature 1940-45 vintage WWII Army & Navy films and pilot's manuals on how to fly the F4U, F6F, P-38, P-39, P-40, P-47, P-51, P-61, TBF/TBM, AT-6/SNJ, B-17, B-24, B-25, A-20, A-26, B-26, B-29, and Stearman N2S. Alert! - don't miss the F-86 & B-58! See them at
http://zenoswarbirdvideos.com/main.html
Free admission for all. That's over 14 hours of rockin' World War II prop & jet videos over the Internet!
Zeno
Zeno's Warbird Video Drive-In
World War II Aviation Videos Playing Online 24/7
http://www.zenoswarbirdvideos.com/
Now on Twitter @ZenosWarbirds
Web videos: P-47s, Vietnam B-52s, B-26s, WW2 Carriers, PBYs & Fallschirmjeagers