Zeno's Warbird Video Drive-In July 2011 14th Anniversary Newsletter
Hello World War 2 & jet aircraft fans --
You are invited to drop by Zeno's Warbird Video Drive-In
http://www.zenoswarbirdvideos.com/
We're celebrating our 14th year on the 'Net with six exciting aviation & combat documentary films playing over the Internet. NEW Follow us on Twitter
http://twitter.com/ZenosWarbirds
to see previously unreleased videos from Zeno's vault and more!
As always, all of the videos showing on our web site are for your free viewing pleasure.
My thanks to Military Quotes for permission to post here.
Now showing "At the Matinee" at Zeno's Drive-In

"Thunderbolt!" Exclusive new digitally restored video from recently released archival print with more than 5 minutes of additional content & directional stereo sound. "Thunderbolt!" Chronicles the exploits of the P-47 Thunderbolt pilots of the "Fighting Cocks" of the 65th Fighter squadron, 57th Fighter Group. New -- additional footage of 64th FS "Black Scorpions," 66th FS "Terminators" and Free French P-47s. Based on the island of Corsica off the northwest coast of the Italian boot, the 57th FG flew from behind the enemy's flank. As part of "Operation Strangle," they continuously attacked highways, bridges, ammo dumps, railroads and just about anything that moved to choke off the flow of supplies to the Axis front line. This film not only features exciting one-of-a-kind P-47 combat footage, it also shows day-to-day life on a MTO forward air base, including vintage pilot slang. The stereo sound really brings these birds to life.


"Profile of a World War 2 Test Pilot " This film was shot at the Army Air Corps top secret Wright Field flight test facility during World War 2 to give pilots the low down on what to expect if they joined their aircraft testing program. There's plenty of info about flight testing at that time, including climb, level flight, take off and landing, test instruments and pilot responsibilities. You also get a look behind the curtain at Wright Field at some of the rarest and most bizarre aircraft produced during World War II, including one-off prototypes. You'll see a Bell P-63 King Cobra doing aerobatics spin & stall tests, a Bell P-59 Airacomet jet fighter, a Plat-LePage XR-1A twin rotor helicopter, a tiny Bell XP-77 fighter, a Curtiss XP-60C with contra-rotating props, a weird hybrid B24/B-17, a beautiful 20-mm canon equipped test P-51A from the first Mustang production run, captured enemy aircraft, and more.

"Winged Artillery " Exclusive -- reconstructed audio & color corrected video. Nine 75mm cannon firing B-25Gs of the 48th Bomb Squadron, 7AAF, based on Apamama in the Gilbert Islands, conduct a hair raising tree top level strike on the Japanese air base on Mille. Also features amazingly well preserved and very rare color footage of daily life of air crew and ground personnel stationed on the islands. As a bonus, you'll watch Sea Bees using heavy equipment to transform these hard won tropical atolls into fully functioning air bases and ground crews maintaining the Mitchell's massive canons.

"Mastering the Thompson Submachine Gun Part 6: Marksmanship ." Originally developed as the .45 caliber "Trench Broom" for close-in fighting at the end of World War I, no other weapon is more surrounded by legend and mystique than the Tommy Gun. Used by both gangsters and law enforcement officers during the Roaring Twenties, it was frequently shown in films and in posed photographs, its drum magazine and instant fire power making it immediately recognizable. During World War II, the Thompson came into it's own for it's originally intended purpose, making war along side the US Army and Marine Corps. Much prized by the Allies, it was shipped in large quantities to British, Commonwealth, French, and Polish troops, along with many other nations. You'll learn all aspects of accurately firing your Thompson in a variety of situations.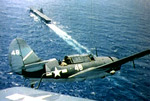 "The Fighting Lady " A new color corrected cor print from the National Archives really brings this film to life! "The Fighting Lady" follows the fictional career of an Essex Class aircraft carrier from the Marcus Islands campaign, through Tinian, Truk, the "Mariana's Turkey Shoot" and much more. But don't let the term "fictionalized" miss lead you. All of the footage shown in this fascinating composite documentary is real -- shot by combat cameramen on board ship and in the air, showing actual Navy and Marine pilots and crewmen up close and personal. ("The Fighting Lady was actually the nickname given to the Yorktowns, CV-5 & CV-10.) You'll see dramatic action showing Hellcats, Hell Divers, Corsairs on deck and in the air, including exciting dive bombing, anti-aircraft, and gun camera footage and some amazing walkaway crash landings.

"We Flew the Mig " In September, 1953, a North Korean defector handed over the first Russian Mig 15 to fall into US hands. The Mig had proven to be a worthy adversary for the North American F-86 Sabre in the skies over Korea, so it was immediately subjected to comprehensive testing. You'll see Chuck Yeagar and other top test pilots putting the Mig through it's paces and hear what they learned, along with a point by point performance comparison with the F-86. Nice footage of the Mig's armaments too.
If you haven't stopped by Zeno's Drive-In before, we also feature 1940-45 vintage WWII Army & Navy films and pilot's manuals on how to fly the F4U, F6F, P-38, P-39, P-40, P-47, P-51, P-61, TBF/TBM, AT-6/SNJ, B-17, B-24, B-25, A-20, A-26, B-26, B-29, and Stearman N2S. Alert! - don't miss the F-86 & B-58!!
Zeno
Zeno's Warbird Video Drive-In
World War II Aviation Videos Playing Online 24/7
http://www.zenoswarbirdvideos.com/
Now on Twitter @ZenosWarbirds