Zeno's Warbird Video Drive-In October 2012 Newsletter
Hello World War 2 & jet aircraft fans --
You are invited to drop by Zeno's Warbird Video Drive-In
http://www.zenoswarbirdvideos.com
to view our October selection of five exciting classic aviation videos showing over the Web. All our films are now streaming in high quality, cross platform & device broadband video.
As always, all of the videos showing on our web site are for your free viewing pleasure. Please help "spread the word" by liking us on Facebook!
My thanks to Military Quotes for permission to post here.
Now showing in August "At the Matinee" at Zeno's Drive-In
http://www.zenoswarbirdvideos.com/MATINEE.html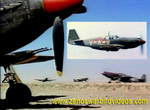 A Day with the A-36s in Sicily plus Captured Axis Aircraft The A-36 was the ground attack variant of the P-51 and was known as "the Invader," "the Mustang" or "the Apache." This is very rare combat footage of an A-36A fighter-bomber squadron in action in Sicily. I compiled and edited this unique extended restored color version of the film using multiple sources. Hidden gems in this film are up close views of captured or destroyed Axis aircraft, including an He 111, FW-190, Ju-88, and a very rare color view of an intact Italian Macchi 202 "Folgore" in full desert cammo.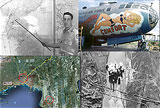 B-29s Over North Korea plus Colorful B-29 Nose Art I created this original documentary from a recently found reel of silent, unedited and undocumented footage shot by the US Air Force in Korea in August-September, 1950, for a documentary that was never released. The highlight of the film shows an early morning briefing for 19th Bomb Group (28th, 30th and 98th Bomb Squadrons) at Kadena Air Base on Okinawa." And as a special bonus, we've added "19th BG Color Nose Art Scrap Book," a collection of remarkable Kodachrome slides taken of 19th BG B-29s by SSgt. George J. Amthor, an armorer with the 19th BG, 30th Squadron, at Kadena in 1950-51.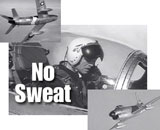 "No Sweat" Flight Safety Training with the F-86D Sabre Jet This film was produced by USAFE (United States Air Force, Europe) and filmed on location in West Germany in the 1950s in order to cut down on costly air accidents resulting from pilot error. The star of this show is the featured aircraft, a North American F-86D -- the all-weather version of the Sabre jet -- which is shown in considerable detail.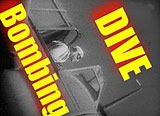 How to Dive Bomb in World War 2 Aircraft The US Navy pioneered dive bombing techniques after World War I and it shows in this informative film, produced by the Department of the Navy in 1943. You'll learn everything from the basic theory of dive bombing to how to put your egg on a real target, including ships at sea.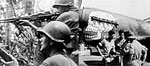 Merrill's Marauders and the 88th Fighter Squadron in Burma This dramatic film contains all known footage of Merrill's Marauder's 5307th Composite Unit (provisional) secret deep penetration mission behind Japanese lines through the Burmese jungle to capture the airfield at Myitkyina in 1944. The last third of the film is an up close look at 88th Fighter Squadron P-40 dive bombers flying out of the captured airfield, supplying very close air support for the Marauder's final assault on the town itself.
We also show 1940-45 vintage WWII Army & Navy films and pilot's manuals on how to fly the F4U, F6F, P-38, P-39, P-40, P-47, P-51, P-61, TBF/TBM, AT-6/SNJ, B-17, B-24, B-25, A-20, A-26, B-26, B-29, and Stearman N2S. Alert! - don't miss the F-86 & B-58!
Zeno
Zeno's Warbird Video Drive-In
http://www.zenoswarbirdvideos.com
World War II Aviation Videos Playing Online 24/7
Now on Twitter @ZenosWarbirds