Zeno's Warbird Video Drive-In Big November 2014 Newsletter
Hello World War 2 & jet aircraft fans --
You are invited to drop by Zeno's Warbird Video Drive-In
http://www.zenoswarbirdvideos.com
to view our November selection of eight exciting aviation films streaming over the Web in broadband, including four premiers. Were honoring Veterans Day 2014 with videos from World War 2, Korea & Vietnam.
As always, all of the videos showing on our website are for your free viewing pleasure. Please help "spread the word" by liking us on Facebook!
My thanks to Military Quotes for permission to post here.
Now showing in November "At the Matinee"
http://www.zenoswarbirdvideos.com/MATINEE.html
at Zeno's Drive-In. Free admission!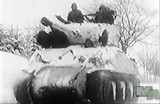 *The 10th Armored Division in World War 2 NEW! Brad Pitt's blockbuster film 'Fury" has sparked a lot of interest in World War 2 tankers. This is the true story of the US 10th Armored Division "Tigers." who served with distinction with George Patton's 3rd Army from the Fall of 1944 through the defeat of Germany in 1945.This thorough documentary, prepared by the US Army's Pictorial Center after the war, combines excellent archival film footage, comprehensive maps and in depth interviews with key 10th Armored personnel from Commanding General William H.H. Morris down the chain of command to front line NCOs.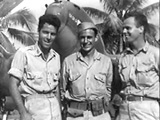 * P-38s Shoot Down Admiral Yamamoto NEW --digitally restored See the P-38 Squadron that shot down Admiral Isoroku Yamamoto, one of imperial Japan's leading strategists, in an incredible long distance interception in the Pacific. Includes purported P-38 gun camera footage of the Admiral's Betty going down in flames. This truly amazing interception -- the result of super secret code breaking and meticulous planning-- was one of the most astounding feats in World War 2.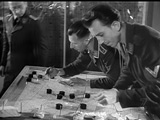 * German Radar detection & signals jamming in World War 2 NEW -- digitally restored Developed by the Luftwaffe, High Frequency Warfare ("Hochfrequenz Kriegsführung") shows how high frequency signals were used in radio direction finding, signals jamming and radar detection. This is in German, so I added some explanatory text, but I found it pretty easy to follow. An attacking British bomber force is identified, their navigation signals are jammed, and fighters are vectored to intercept. Radar is employed to protect convoys in the Mediterranean, and radar jamming is used to cover the "Channel Dash" of the Battle cruisers Scharnhorst & Gneisenau during their escape from Brest.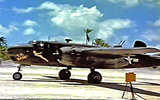 * B-25 "Winged Artillery (Digitally Restored Color) Cannon firing B-25s in vivid color! The original film had no sound effects at all, so I took the liberty of adding aircraft engine sounds, explosions, trucks, hammering etc. I also digitally corrected severe color shifts. Nine 75mm cannon firing B-25Gs of the 48th Bomb Squadron, 7AAF, based on Apamama in the Gilbert Islands, conduct a hair raising tree top level strike on the Japanese air base on Mille.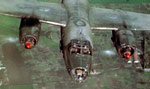 *B-26 "White Tailed Marauders" Exclusive original documentary Rare color film of B-26 Marauders in action in the Spring of 1945. See the 453rd, 454th, 455th, and 455th Bomb Squadrons operating against Germany from their base in Laon, France. All color footage really brings this bygone era startlingly back to life. Where possible, individual aircraft and their crews are identified. Special treats include escorting P-38s and a round trip mission. A must for Marauder fans everywhere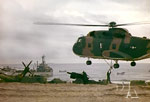 * USAF 20th Helicopter Squadron CH-3 "Jolly Green Giants in Vietnam NEW!(Original Documentary)Great quality color footage shows 20th Squadron "Jolly Green Giant" CH-3C helos operating out of Danang supporting the amphibious landing in a variety of roles including ferrying 105mm howitzers from "Red Beach" inland to forward fire bases, transporting causalities and captured VC, bringing in spare parts and ferrying civilians from the combat zone to safe havens.

* Fighting 51st F-86s in Korea This revealing documentary was produced by the US Air Force during the Korean War. You'll see members of all sections of the 'Fighting 51st" Fighter Group and their F-86 Sabres in action. The film covers a typical mission, from planning through touchdown. One of the highlights of the film is an address by Francis "Gabby" Gabreski, legendary 56th Fighter Group ace in World War 2 and CO of the 51st in Korea.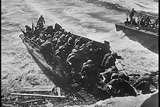 * Appointment in Tokyo: MacArthur returns to the Philippines NEW! "Appointment in Tokyo" spans the time from the fall of the Philippine & the island fortress of Corregidor in May 1942 to General MacArthur's return to the islands in October 1944, with a primary focus on the battles to retake the Philippines. Copious combat footage of air, land and sea operations are supplemented by detailed maps that put it all in context
We also show 1940-45 vintage WWII Army & Navy films and pilot's manuals on how to fly the F4U, F6F, P-38, P-39, P-40, P-47, P-51, P-61, TBF/TBM, AT-6/SNJ, B-17, B-24, B-25, A-20, A-26, B-26, B-29, and Stearman N2S. Alert! - don't miss the F-86, B-47 & B-58!
Zeno
Zeno's Warbird Video Drive-In
World War II Aviation Videos Playing Online 24/7
http://www.zenoswarbirdvideos.com
Now on Twitter @ZenosWarbirds
Web Videos: AAF Pacific, WW2 Aerial Mines, P-38s, P-51s, Japanese Arms, B-58s & more
Videos Yamamoto Down, German Radar, B-25, 10th Armored, B-26s, F-86s, CH-3s & more