Zeno's Warbird Video Drive-In Big November 2016 Newsletter
Hello World War 2 & jet aircraft fans –
You are invited to drop by Zeno's Warbird Video Drive-In
http://www.zenoswarbirdvideos.com/
to view our November 2016 selection of eight exciting films streaming over the Web in broadband, including two premieres!
As always, all of the videos showing on our web site are for your free viewing pleasure. Please help "spread the word" by liking us on Facebook
My thanks to Military Quotes for permission to post here.
Now showing in October "At the Matinee" at Zeno's Drive-In Free admission!
http://www.zenoswarbirdvideos.com/MATINEE.html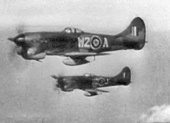 * R.A.F. Air Front 1944-45: Market Garden, Tallboys, Typhoons, Tempests, Night Raids & More NEW Glider landings in support of Operation Market Garden, night attacks on Brunswick (Braunschweig ) and other German cities with incendiary bombs that literally set them on fire, Hawker Typhoon & Tempest fighter/bombers attacking bridges, railroads & troop concentrations, Mosquitoes & Bristol Beaufighters & attacking shipping on the Norwegian coast, and Lancaster dropping massive 12,000 LB Tall Boy & 22,000 LB Grand Slam bombs on hardened targets like submariner pens and coastal defenseless and much more.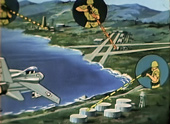 * Laser Weapons For the Fleet-Restored Color NEW The Vietnam War posed a new challenge for American attack aircraft: how to deliver payloads with great precision against hotly defended targets like bridges in North Vietnam without exposing planes & crews to withering AAA fire during traditional low altitude dive bombing runs. The answer was a new generation of smart weapons systems employing laser beams, TV transmission or a combination of both. This report focus on the development, evolution and deployment of laser based systems by both Navy Air and Marine Corps.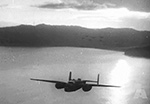 * Medium Bombardment & Attack with the B-25 This unique film was made to indoctrinate B-25 & A-20 medium bomber squadrons transitioning from Europe to the Pacific, with a focus on the North American B-25. These groups were primarily tasked with ground and anti ship attacks, inflicting huge losses on Japanese forces, far out of proportion to their numbers. Great footage of extremely low level actions! Covers operating in the tropics, squadron staff duties, planning missions, converting B-25s for ground attack and tactics for land & sea attacks "on the deck.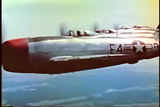 * 362nd Fighter Group - On the Prowl Over Germany Exclusive Production! Select 362nd Fighter Group P-47 Thunderbolt fighter/bombers were specially equipped with extra color movie cameras to capture thrilling ground and air attacks as they happened. These squadrons were tasked with striking targets inside Germany as the war against the Third Reich entered it's final act in Spring, 1945. The result is unique "from the cockpit" views putting you in the middle of attacks on tanks, airfields, trucks, rail yards, bridges, trains, fighters, and more.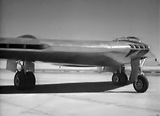 * First Flights of the Northrop YB-49 Flying Wing This film was produced by the US Air Force and Northrop to show the first test flights of the gigantic YB-49 Flying Wing at Northrop's Hawthorne, California facility, introducing it to the American public for the first time. The YB-49 was a redesign of the propeller driven B-35, upgraded with six GE Allison jet engines and various structural design improvements. The revolutionary design and almost other worldly, alien spacecraft-like lines of the jet powered Wing are highlighted in this very clean black and white footage.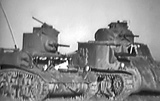 * Operating Light & Medium Tanks in World War 2, Not only does this film cover the basics of operating World War 2 era American tanks, it offers a rare look at two seldom seen early examples, the M-3 Medium "Lee," (British "Grant") and the M-3 Light "Stuart." A Lee was featured in the 1943 Hollywood classic motion picture "Sahara," starring Humphrey Bogart. The Stuart appeared in many episodes of DC Comic's "Jeb Stuart and the Haunted Tank," often in the unlikely role of taking on German Tigers. Both tanks were active on all fronts early in World War 2, including in Russian, where they were supplied to the Soviets, who found them distinctly inferior.

* The Fighting 51st F-86 Sabre Jets in Korea This revealing documentary was produced by the US Air Force during the Korean War. You'll see members of all sections of the 'Fighting 51st" Fighter Group and their F-86 Sabres in action. The film covers a typical mission, from planning through touchdown. One of the highlights of the film is an address by Francis "Gabby" Gabreski, legendary 56th Fighter Group ace in World War 2 and CO of the 51st in Korea .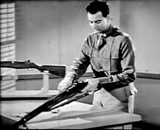 * M-1 Rifle Caliber .30 Principles of Operation Although the M-1 has attained legendary status as the companion of the majority of US troops in World War 2, it's truly revolutionary role is still not fully appreciated. Designed by the brilliant John C. Garand, the M1 was the first semi-automatic rifle issued en masse to the army of any nation. This World War 2 Army Signal Corps film takes you inside and out of the operation of Garand's ingenious design. The M1's semiautomatic operation and eight shot clip gave U S forces a significant advantage in firepower and response time over the enemy.
We also show 1940-45 vintage WWII Army & Navy films and pilot's manuals on how to fly the F4U, F6F, P-38, P-39, P-40, P-47, P-51, P-61, TBF/TBM, AT-6/SNJ, B-17, B-24, B-25, A-20, A-26, B-26, B-29, and Stearman N2S. Alert! - don't miss the F-86, B-47 & B-58!
Zeno
Zeno's Warbird Video Drive-In
World War II Aviation Videos Playing Online 24/7
Zeno's Flight Shop DVD Store
http://www.zenosflightshop.com
World's Largest selection of WW2 & vintage jet videos
Your purchases make all this possible!
Now on Twitter
zeno
sWarbirds
Videos; Typhoons, Tempests, USN Lasers, P-47s,B-25s, Flying Wing F-86s & more