Zeno's Warbird Video Drive-In Big August 2016 Newsletter
Hello World War 2 & jet aircraft fans --
-
You are invited to drop by Zeno's Warbird Video Drive-In
http://www.zenoswarbirdvideos.com
to view our August 2016 selection of eight of our favorite films streaming over the Web in broadband!
As always, all of the videos showing on our web site are for your free viewing pleasure. My thanks to Military Quotes for permission to post here.
-
Now showing in August "
At the Matinee
"
http://zenoswarbirdvideos.com/MATINEE.html
Free admission!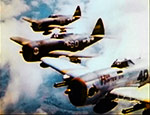 *Thunderbolt! Restored with exclusive additional scenes.
"Thunderbolt!" chronicles the exploits of the P-47 Thunderbolt pilots of the "Fighting Cocks" of the 65th Fighter squadron, 57th Fighter Group. Based on the island of Corsica off the northwest coast of the Italian boot, the 57th FG flew from behind the enemy's flank. As part of "Operation Strangle," they continuously attacked highways, bridges, ammo dumps, railroads and just about anything that moved to choke off the flow of supplies to the Axis front line. This film not only features exciting one-of-a-kind P-47 combat footage, it also shows day-to-day life on a MTO forward air base, including vintage pilot slang.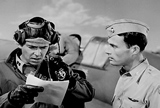 *
World War 2 Fighter Combat Formations with Ronald Reagan
An experienced Army Air Force fighter pilot, played by Ronald Reagan, is called back from the front to lead a fighter tactics class in Flight School. The film starts with the AAF way for forming. deploying and maneuvering fighter formations from two ship elements to 12 plane squadrons & how to take on enemy fighters. The focus turns to tactics for escorting friendly bombers and attacking enemy bomber formations, including close escort, top cover, using the sun to blind opponents, employing decoys in the attack - and more.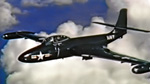 * U.S. Navy Jet Fighter Tactics 1951
"Aerial Tactics: High Speed, High Altitude Flight Problems" was produced by the Navy Department during the Korean War. This unique film is compelling for two reasons. First, it features truly outstanding color footage of McDonnell F2H-2 Banshee & Grumman F9F Panther fighters operating singly and in squadron formation, dancing agilely among towering cumulus clouds and flying off carriers. Second, it opens a fascinating window on US Navy carrier launched fighter operations and tactics at the time of the Korean War in the "guns only" era before air-to-air missiles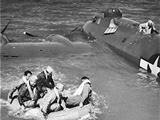 *
Ditch & Live at Sea in a Boeing B-17
Ditching in water was a fact of life for stricken aircraft in World War 2, from the frozen white tops of the North Sea to the Shark infested waters of the South Pacific. Lt. Reynolds, played by veteran actor Arthur Kennedy (Lawrence of Arabia), is copilot on a B-17 that ditches at sea. He's survives by pure luck, but the rest of the crew is lost due to a lack of preparation. When he gets his own ship, Reynolds vows his crew is thoroughly trained in B-17 ditching. He gives them the straight dope, step by step.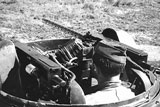 *
Flexible Aerial Gunnery; Making a World War 2 Aviation Gunner
This Army Air Force training film is the best look inside a World War 2 aerial gunnery school we have seen. Developed to be shown to trainees at the beginning of their course, its a thorough step by step preview of what to expect. Some of the many things you'll see: the role of the instructor, .30 &.50 caliber machine guns, dealing with jams, compensating for bullet drop, estimating range and leading targets, bore sighting and harmonization & a lot more.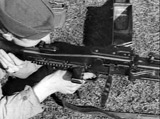 *World War 2 Machine Gun Shootout: U.S. vrs German.
"Automatic Weapons: American vrs. German" uses a pair of memorable "shoot outs" to compare the relative strengths of the US weapons with their captured German counterparts. A Thompson and an M-3 "Grease Gun" face off against the German MP-40, and then the light and heavy versions of the American Browning .30 caliber face off against the German MG-34 and MG-42. The results are fascinating, although perhaps a tad miss-leading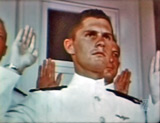 * World War 2 U.S. Naval Aviation Cadet
I did a shot by shot color restoration of this video. Narrated by Joseph Cotton (Citizen Kane, The Third Man). This color film follows the career of a Navy cadet from enlistment soon after Pearl Harbor through Primary and Advanced Flight Training and on into combat. Especially memorable are the many scenes shot at Pensacola Naval Air Station flight school. You'll see all aspects of cadet training, including flight, gunnery, navigation and bombing, along with a generous serving of cadet social life.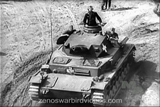 *
Blitzkrieg: The German Invasion of Poland
During World War 2 German combat footage on the invasion of Poland was assembled by the US Army Signal Corps with English narration to show revolutionary Blitzkrieg tactics to the US Army. Excellent footage seen nowhere else. Some highlights: Extensive footage of German armored columns fighting and advancing across Poland, including numerous early war tanks and armored vehicles. Engineers bridge the Vistula. Junkers He 111, Dornier Do 17, and Junker's Ju 87 bomber and Messerschmidt Bf 109 fighter operations.
-
We also show 1940-45 vintage WWII Army & Navy pilot training films and pilot's manuals on how to fly the F4U, F6F, P-38, P-39, P-40, P-47, P-51, P-61, TBF/TBM, AT-6/SNJ, B-17, B-24, B-25, A-20, A-26, B-26, B-29, and Stearman N2S. Alert! - don't miss the F-86, B-47 & B-58!
Zeno
Zeno's Warbird Video Drive-In
World War II Aviation Videos Playing Online 24/7
http://www.zenoswarbirdvideos.com
Zeno's Flight Shop DVD Store
World's Largest selection of WW2 & vintage jet videos
http://www.zenosflightshop.com/
Now on Twitter
zeno
sWarbirds
Videos:Thunderbolts,USAF & Navy Fighter Tactics,WW2 MGs,B-17 Ditching,Blitzkrieg