Zeno's Warbird Video Drive-In Big October 2010 Newsletter
Hello World War 2 & jet aircraft fans --
You are invited to drop by Zeno's Drive-In
http://www.zenoswarbirdvideos.com/
for this month's flight of six exciting aviation & combat documentary films playing over the Internet. This month, we're showing two new premiers, including the feature length World War 2 documentary, "Tunisian Victory," and four more returning aviation classics.
As always, all of the videos showing on our web site are for your free viewing pleasure. The movies playing at the Matinee are viewable in both RealVideo and Windows Media Player streaming video formats.
My thanks to Military Quotes for permission to post in this forum.
Now showing "At the Matinee" at Zeno's Drive-In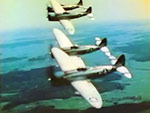 "The 362nd Fighter Group- On the prowl over Germany" Color Exclusive original documentary -- some of the most exciting color air action sequences to come out of World War 2! Select 362nd Fighter Group P-47 Thunderbolt fighter/bombers were especially equipped with color movie cameras to capture thrilling ground and air attacks as they happened. These squadrons were tasked with striking targets inside Nazi Germany as the war against the Third Reich entered it's final act in Spring, 1945. The result is unique from the cockpit views putting you in the middle of attacks on tanks, airfields, trucks, rail yards, bridges, trains, fighters, and more. You'll even see antiaircraft fire arcing up from the ground, bursting around the big Thunderbolts as they make their low level strikes.

"Airplane 11 The First B-58 Hustler Trainer" NEW Color. Premier. The first trainer version of the Hustler, the TB-58, was delivered by General Dynamics to the US Air Force in August, 1960, the first of eight R&D aircraft (this was "aircraft 11" in the test series) converted for that purpose. The biggest change involved converting the Bomber/Navigator station (2nd seat aft) to a pilot/instructors compartment with instrumentation and controls. Highlights include great footage of the colorfully painted TB 58 training version in operation, a tour of the mock up of the converted crew section, and unique in flight footage shot from inside the aircraft.

"The Story of the Black Cat PBYs" New revised edition with exclusive content. The identities of the previously undisclosed secret PBY bomber base shown in this World War 2 film and the men who flew from it are now revealed for the first time. What was that mysterious plane swooping down out of the night sky on unsuspecting Japanese ships and bases, hundreds of miles from any known American airstrip? The answer was, as you'll see in this good humored, affectionate film, the slow, ungainly, but deadly "Black Cat" PBY. Originally designed primarily as a reconnaissance and antisubmarine amphibious patrol plane, the big twin engined Catalina's super long range, all weather capability, capacity to lug both bombs and radar, ability to loiter for hours hunting convoys and operate from anywhere in the Pacific Ocean, made it an ideal naval night attack bomber. One of the least known stories of the war in the Pacific, these black painted PBYs spread destruction and chaos far out of proportion to their relatively small numbers.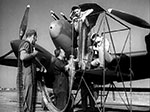 "Tunisian Victory" An American-British feature length World War 2 co-production in very good black and white film. This is the climactic final chapter in the defeat of Rommel's Africa Korps told in an epic, wide ranging presentation. American, British, and French forces strike from the West in Operation Torch, landing in Morocco and Algeria, the first major amphibious strike of World War 2. British and Commonwealth forces continue their drive from Egypt, through the Mareth Line into Southern Tunisia. You'll see all aspects of Allied air, sea, parachute and ground operations from beach landings through the final mass surrender of the Africa Korps, including a mountain of dramatic combat footage ranging across the North African front. There's a wide variety of Allied and Axis tanks and armored vehicles featured too, along with many aircraft like the A-20, B-25,B-17, B-24, Spitfire,Hurricane, Beaufighter, P-38, P-39, P-40 and more in action.

"Luftwaffe Finis" Exclusive production. The end of the German air force " Exclusive production. This original documentary is composed of recently discovered color film of top Luftwaffe leaders and pilots taken as they fell into Allied hands at the end of World War II. See Reichsmarschall Herman Goering, commander of Luftwaffe fighter forces Adolf Galland, Stuka pilot & tank buster supreme Hans Rudel and many more. Captured aircraft are shown as well, including an Me 262, the first jet fighter, and an FW 190. These color images make history come alive.

"Sky Blitz The German Airborne Invasion of Holland" This documentary on the airborne invasion of Holland in May 1941 was captured from the Germans and turned into a training tool by the US Army Air Corp. That's because it's a text book case of the effective use of airborne troops and influenced US doctrine. This dramatic, action filled film focuses on the capture and securing of a strategic lynch pin in the defense of Holland, the massive Moerdijk bridge. You'll see crack "Fallschirmjeager" troops seize the bridge in tact before it can be blown by the Dutch. Useful maps portray tactical operations.
If you haven't stopped by Zeno's Drive-In before, we also feature 1940-45 vintage WWII Army & Navy films and pilot's manuals on how to fly the F4U, F6F, P-38, P-39, P-40, P-47, P-51, P-61, TBF/TBM, AT-6/SNJ, B-17, B-24, B-25, A-20, A-26, B-26, B-29, and Stearman N2S. Alert! - don't miss the F-86 & B-58!
Free admission for all. That's over 14 hours of rockin' World War II props & jets for free viewing over the Internet!
Zeno
Zeno's Warbird Video Drive-In
World War II Aviation Videos Playing Online 24/7
http://www.zenoswarbirdvideos.com/
Web Videos: Thunderbolts attack, PBY bombers, Rommel retreats, B-58 Trainers, Luftwaffe aces & Fallschirmjeagers