Zeno's Warbird Video Drive-In Big May 2010 Newsletter
Hello World War 2 & jet aircraft fans --
You're invited to drop by Zeno's Drive-In
http://www.zenoswarbirdvideos.com/
for this month's flight of six exciting aviation documentary films playing over the Internet. We have two Premiers: "Interrogation of Enemy Airmen 1943" and "Escape and Survive: The B-58 Ejection Capsule," plus four classics: "Naval Aerial Tactics Featuring the F2H-2 Banshee," "The Thunderbolts: Ramrod to Emden," "The Fighting 51st: Gabby Gabreski and his F-86sin Korea," and "The Last Bomb: B-29s & P-51s Raid Japan."
As always, all of the videos showing on our web site are for your free viewing pleasure. The movies playing at the Matinee are viewable in both RealVideo and Windows Media Player streaming video formats.
Thanks for permission from Military Quotes to post in this forum.
Now showing "At the Matinee" at Zeno's Drive-In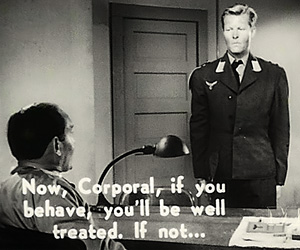 "Interrogation of Enemy Airmen 1943" New – Premier! From the Archives of the Central Intelligence Agency. This fascinating film, shot in the style of a World War 2 melodrama, was produced to train American "AIOs" (Air Intelligence Officers) in techniques for interrogating captured enemy airmen, gathering vital intelligence. You'll get a look inside an AIO training school, where candidates learn a variety of interrogation methods, the importance of thoroughly familiarizing themselves with existing intelligence about enemy units and weapons, and observe mock interrogations that are critiqued by the class. Then you'll see a series of re-creations of field interrogations that are conducted by real AIO servicemen in the native languages of captured pilots with English subtitles. See how each interrogator's approach is modified for the typical national characteristics of captured German, Italian and Japanese pilots and air crew, while still being aware of each individual's personality and how it could be exploited, and how agents were planted in prison camps to glean information, "parties" were held to loosen tongues and more.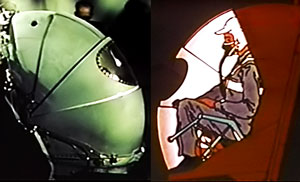 "Escape and Survive: The B-58 Ejection Capsule" -Color New -- Premier! The B-58 was the first aircraft capable of operating at sustained supersonic speeds at very high altitudes, posing new problems for safe crew. Convair decided to develop a unique mini clam shell like "capsule" for each of the three crew members that could survive both rough terrain and water landings. The capsule had to take up no more space than a conventional seat. This film, developed by B-58 capsule subcontractor and ejection seat pioneer Stanley Aviation, focuses on the design, manufacture and testing of the capsule. Among highlights are dramatic tests conducted on Hurricane Mesa, Utah. To verify ground launch capabilities, a B-58 forward fuselage with crew compartment was put on a rocket sled, tracking toward the edge of the 2,000foot mesa.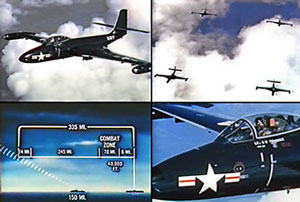 "Naval Aerial Tactics Featuring the F2H-2 Banshee" Color Produced by the Navy Department during the Korean War, this unique film is compelling today for two reasons. First, it features truly outstanding color footage of F2H-2 Banshee fighter/bombers operating singly and in squadron formations, dancing agilely among towering cumulus clouds. Second, it opens a fascinating window on US Navy carrier launched fighter operations and tactics durind the Korean War. The film addresses three main "problems" in aerial tactics: intercept, escort and attack, and defense. Using a combination of live action and animation, you'll learn how to optimize your approach angle for a minimum deflection gun shot, squadron formations for different tactical situations, effective combat air patrol operations for carrier protection, options for escorting bombers to targets, working effectively with carrier air controllers, carrier approach and landing, tactics for attacking enemy formations, how to avoid stalls during combat and much more. We give it our highest rating for combat aircraft fans everywhere!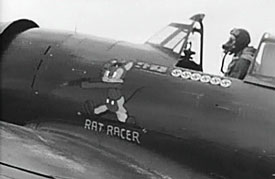 "The Thunderbolts: Ramrod to Emden" Restored film print. The 56th Fighter Group (made up of the 61, 62 & 63 squadrons) was one of the most storied Air Corps units of World War II. Home to aces like David Schilling (22 kills), Frances "Gabby" Gabreski (28), Robert S. Johnson (27), Fred Christensen (21.5), Walker Mahurin (21), and CO Hubert "Hub" Zemke (18), the 56th blazed an early trail across the skies of the ETO in their massive, but deadly P-47 Thunderbolts. "Ramrod to Emden" is the story of the Dec 11, 1943 bomber escort mission (aka "a ramrod") to Emden, Germany. As you'll see in the film, the 56th encountered heavy, determined opposition from the Germans, but it proved to be an exceptionally productive day. With Lt. Col. Schilling leading 50 planes of the group, they claimed 17-0-5, with two aircraft lost in a midair collision and no aircraft lost to enemy action. Allied bomber losses were minimal.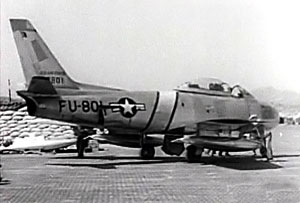 "The Fighting 51st: Gabby Gabreski and his F-86s in Korea" This revealing documentary was produced by the US Air Force during the Korean War. You'll see members of all sections of the "Fighting 51st" Fighter Group and their F-86 Sabres in action. The film covers a typical mission, from planning through touchdown. One of the highlights is an address by Francis "Gabby" Gabreski, legendary World War II ace and CO of the 51st in Korea. (He's also shown in the briefing room back in 1944 in "Ramrod to Emden")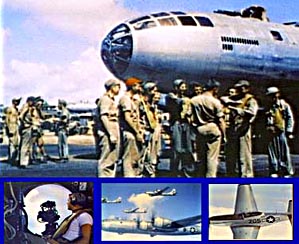 "The Last Bomb: B-29s & P-51s Raid Japan" Academy Award Nominee. "The Last Bomb" vividly documents an almost forgotten chapter of World War II: the long range B-29 "Superfortress" bombing raids on Japan. Launched from hard won Pacific islands, these missions were over 3,000 miles round trip and could take 12 hours or more to complete. You'll see the huge B-29 bases that were carved out on Guam, Tinian and Saipan. Rare late war Technicolor film, shot by combat camera men, documents all aspects of a XXI Bomber Command daylight strike carried out at just 12,000' (!) on Tokyo in 1945. The mission is covered from planning by General Curtis LeMay and his staff, through fighter action and "bombs away," to final touch down. You'll also see spectacular color gun camera footage taken by escorting P-51 Mustangs, based on Iwo Jima.
If you haven't stopped by Zeno's Drive-In before, we also feature 1940-45 vintage WWII Army & Navy films and pilot's manuals on how to fly the F4U, F6F, P-38, P-39, P-40, P-47, P-51, P-61, TBF/TBM, AT-6/SNJ, B-17, B-24, B-25, A-20, A-26, B-26, B-29, and Stearman N2S. Alert! - don't miss the F-86 & B-58!
Free admission for all. That's over 14 hours of rockin' World War II props & jets for free viewing over the Internet!
Zeno
Zeno's Warbird Video Drive-In
World War II Aviation Videos Playing Online 24/7
http://www.zenoswarbirdvideos.com/
Videos:Interrogating Enemy Airmen 1943,B-58 Ejection,Tbolts,F-86s,Banshees,Superforts