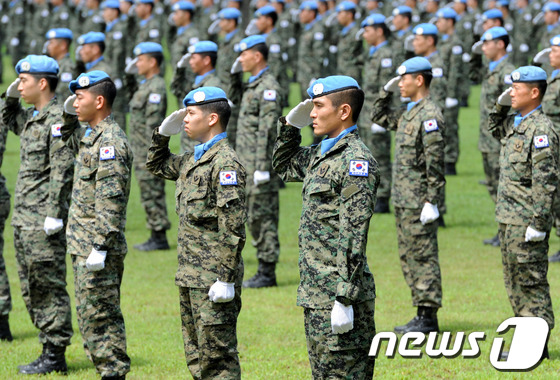 UNIFIL Commander presented U.N. medal to all Dongmyeong troops in ceremony. Dongmyeong Unit, which is successfully carrying out its missions as part of U.N. peacekeeping operations in Lebanonís Tyre region, was presented U.N. medal, the highest honor awarded to U.N. peacekeeping forces, in a ceremony held at its local post on June 24. Present at the ceremony hosted by the commander of the United Nations Interim Forces in Lebanon (UNIFIL), Claudio Graziano, an Italian Army Maj.
Gen., were the Republic of Koreaís ambassador to Lebanon Park Chan-jin and some 500 hundred others, including local Lebanese officials from Dongmyeong Unitís area of responsibility. After the medals were presented by the commander of the UNIFIL and other key leaders, a Taekwondo performance was offered by local children followed by a performance of traditional Arab dance, an exhibition of traditional farm music and Taekwondo by members of the Dongmyeong unit and a reception.
As an award presented to U.N. forces deployed throughout the world to praise their successful execution of missions, the U.N. medal is only given to forces who successfully complete missions for at least 90 days or those who are killed in action. The first batch of Dongmyeong Unit had also received the U.N. medal on December 17, 2007, for successfully executing their missions.
(
http://www.korea.net/NewsFocus/Polic...rticleId=72951
)