Quote:
21. 07. 11. - 15:56
Austria 'acted insensitively' over Golovatov

A renowned human rights expert has criticised Austria over how it handled the case of a Russian war crimes suspect.

Mikhail Golovatov was put in custody at Vienna International Airport (VIA or VIE) last Thursday. The 62-year-old former official of Soviet security agency KGB is held responsible for the death of 13 unarmed civilians in an attempted putsch in Vilnius, Lithuania, 20 years ago. Hundreds were injured when a special squad allegedly headed by Golovatov tried to take over a TV broadcasting complex in the city.

The Russian was freed just 22 hours after his detention. Viennese state prosecutors said evidence brought forward by the Lithuanian government and the Baltic country's prosecution was not strong enough to justify keeping Golovatov behind bars for longer. Austrian Foreign Minister Michael Spindelegger of the People's Party (ÖVP) denied Russian leaders applied pressure on Austrian juridical authorities to get Golovatov out of custody. Foreign Ministry General Secretary Johannes Kyrle added: "Austria cannot be put under pressure that easily."

Now Manfred Nowak said Austria did wrong by releasing Golovatov "so quickly." The Austrian – a former Special Rapporteur on Torture for the United Nations (UN) – said: "Austria should have taken more time to investigate the accusations brought forward by Lithuania."

Asked by the Kurier newspaper whether Russia's political elite may have put prosecutors under pressure, Nowak said today (Thurs): "There is a certain handling – not only in Austria: don't mess with powerful Russia. Lithuania is a small country. These aspects tarnish the recent developments."

Nowak admitted he was not trusting the Lithuanian judiciary "to 100 per cent" in the case against Golovatov. The ex-UN official claimed the Baltic state might try making the former KGB official a scapegoat for what happened on the night in question in Vilnius in January 1991. However, Nowak added: "Lithuania is member of the EU (European Union) and therefore under close investigation."

The human rights lawyer and author criticised Lithuania for "overstating the case" by comparing Golovatov with Serbian genocide suspect Ratko Mladic. The ex-army general is facing charges at the International Criminal Tribunal for the former Yugoslavia in The Hague in the Netherlands. Mladic is accused of being behind the massacre of Srebrenica in 1995 in which around 8,000 Bosnian Muslim boys and men were executed.

Austrian Social Democratic (SPÖ) Member of the European Parliament (MEP) in Strasbourg, France, Hannes Swoboda also expressed criticism about the way his homeland acted and reacted regarding the arrest and release of Golovatov. The MEP, who heads the SPÖ's delegation in Strasbourg announced today he considered Austria's decision-making as "insensitive and actually not loyal." Swoboda said Austria should have given Lithuania more time to specify the allegations against Golovatov. The Social Democrat added Lithuania, Estonia and Latvia were "exaggerating" in the way they are interpreting Austrian prosecutors' actions.

Earlier this week, the Lithuanian state prosecution called on EU's Eurojust agency to help investigate Austria's decisions regarding the preliminary detention and release of Golovatov.

It was also reported that the foreign ministers of Lithuania, Latvia and Estonia contacted the European Commissioner for Justice, Fundamental Rights and Citizenship, Viviane Reding. They told Reding Austria "violated mutual trust" in their opinion by ignoring a European arrest warrant. The commissioner announced she concluded Austria broke no laws, but appealed on EU members "not to forget about the political dimension" of their decisions. Reding added she called on the justice ministers of the 27 EU member nations "to cooperate honestly and openly."

Austrian justice ministry official Christian Pilnacek reacted by saying: "The Austrian state prosecution cannot make political decisions. It is subjected to the law." He added that prosecutors received no orders by politicians.

ÖVP Justice Minister Beatrix Karl said she agreed with her Lithuanian counterpart Remigijus Simasius about setting up a task force "to clarify any open questions. The relationship between Austria and Lithuania is good."

While Sergey Nechayev, the Russian ambassador in Vienna, said "issuing political pressure is not part of the set of measures used in Russia's relationship with Austria," political scientist Gerhard Mangott said it was "highly likely" that the politically muscular Eurasian country did so. Mangott claimed suspicions of some kind of interference were "justified."

Mangott said he was convinced the debate will soon calm down again. However, he added that the reputation of Austria in Lithuania, Latvia and Estonia suffered. Hundreds of people took to the streets in Vilnius in the past days to express their anger over how Austria acted after custom officers identified Golovatov.

Meanwhile, an increasing number of commentators and political rivals of the SPÖ – which forms a coalition with the ÖVP – is calling on SPÖ chairman and Chancellor Werner Faymann to reveal his point of view. Faymann attended the opening of the Bregenz Festival (Bregenzer Festspiele) yesterday. He answered questions about his stance on a possible increase of financial aid for debt-ridden Greece, but declined to comment on the political and diplomatic rift between Austria and Lithuania.

Greens member of the Austria parliament (MP) Albert Steinhauser said Spindelegger should apologise to Lithuania. Freedom Party (FPÖ) MP Johannes Hübner called on Faymann to do so. While Steinhauer said it seemed Austria "attempted to rid itself of a problem," the SPÖ board did not issue a statement. ÖVP juridical issues spokesman Heribert Donnerbauer emphasised that there was a "correct juridical decision of independent courts." Donnerbauer added: "We should talk about how such problems could be avoided in the future."

Austrian President Heinz Fischer announced he was "certain" Austria had no "bad intentions." The former SPÖ MP added he was convinced no one "tried to cover up anything." Fischer said: "The long-term relation with Lithuania should not be endangered."

Speaking to the Tiroler Tageszeitung, Fischer reminisced about the personal impressions he garnered in Lithuania shortly after the clashes in January 1991. The president said he headed a delegation travelling to Vilnius which was formed by late German Social Democratic (SPD) Chancellor Willy Brandt. "The situation was highly dramatic for Lithuania," Fischer said.

SPÖ Salzburg Mayor Heinz Schaden expressed his "understanding for the anger of the people of your city and country about the occurrences" in a letter to Arturas Zuokas, the mayor of Vilnius. Salzburg has been the twin city of the federal capital of Lithuania since 1989.
http://austrianindependent.com/news/...over_Golovatov
Mikhail Golovatov
Former commander of Specnaz unit 'Alfa'.
FSB's 'Alfa' and their sibling teams, 'Vympel' ('Torch'), and MVD's 'Vityaz' ('Knight') are the best of the best of the best
That's their motto on the poster; "To find and eliminate". This is what they do: counter-terrorism, hostage situations, and, yes, supposedly, assassinations.
They have the best weapons and equipment, best training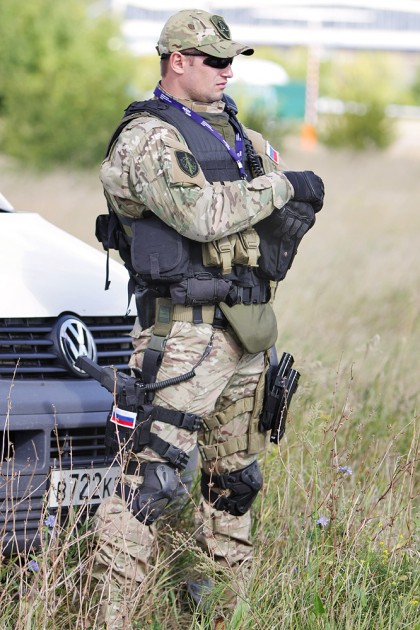 The photo above, the first one, is a mystery to all, as you can see the face of a 'Alfa' soldier. Normally, their faces are always hidden, their identities protected. Nobody knows who they are, where they are.
What I want to say is, if the Lithuanian government thinks it was in fact 'Alfa' who stormed their TV station, they are wrong: 'Alfa' would not kill unarmed people. This is a fact.
In 1993, then-Russian President Boris Yeltsin tried to order 'Alfa' to storm the Moscow White House, where a rebellious parliament was plotting against him. 'Alfa' refused the order. Officers would not shoot at unarmed parliamentarians and innocent bystanders.
No, whoever did those atrocities in Vilnius, it was not 'Alfa'. Could not have been.