Zeno's Warbird Video Drive-In June 2007 Newsletter
Hello World War II plane fans ---
You're invited to drop by Zeno's Drive-In and sample this month's memorable lineup of World War 2 plane videos playing live online at
www.zenoswarbirdvideos.com
.
As always all the videos on our web-site are free for your viewing pleasure.
This month "At the Matinee," you'll see a new film premier, "Saipan Superforts," plus "Flight Deck Crew: Landing & Respotting Carrier Aircraft, "The Memphis Belle," and the RAF classic "Target For Tonight."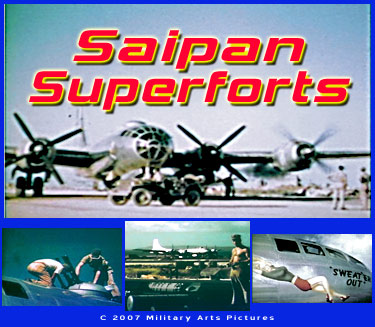 Saipan Superforts (color) New! This recently discovered footage shows the 73rd Bomb Wing, based on the island of Saipan in the Marianas, operating against Japan in early 1945. You'll see B-29 pilots & crews on R&R and on mission in their magnificent Superfortresses. The fates of many of the B-29s seen in this picture are documented during the film. Some made the ultimate sacrifice. You'll see a gallery of memorable 73rd Bomb Wing nose art too -- all in living color. "The "maximum effort" take-off scene in stereo sound is an awe inspiring combination of 18 cylinder engine roar and a musical score that's guaranteed to raise goose bumps.
If your PC is hooked up to a robust sound system, I suggest you crank it up.
IMHO, this is one heck of an evocative film!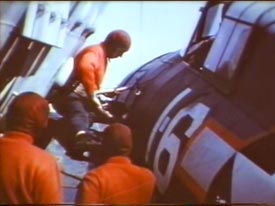 Flight Deck Crew: Landing & Respotting Carrier Aircraft (color) Major air battles in the Pacific in World War II often turned on the ability of each side to quickly launch, land, rearm & refuel, and then relaunch their aircraft. This unique film is an unusual look (in color) at how US Navy carrier flight deck crews were trained to turn around their planes quickly. As a bonus, you'll see GM FM-1 "Wildcats" and Grumman TBF "Avengers" up close, handled expertly on the tiny deck of a CVE "jeep" escort carrier. An unscripted, unplanned highlight occurred during the filming -- a TBF came in too hot and crashed on the flight deck! Fortunately, no one was hurt. We just finished digitally restoring the color balance on this film in time for this month's Matinee and it looks great.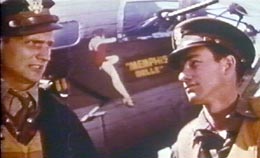 The Memphis Belle (color) This classic film chronicles the 25th mission of the Boeing B-17 Memphis Belle against the U-boat pens at Wilhemshaven. This is the original wartime documentary, written and directed by legendary Academy Award winner William Wyler. If this film looks and sounds familiar, it's because this is the same production crew that brought you another wonderful classic, "Thunderbolt!." (Don't confuse this "original" Memphis Belle with the well intentioned but flawed Hollywood fluff piece produced in the 1990s.) You'll see Capt. Robert Morgan and the men of the B-17 "Memphis Belle," 324th Squadron, 91st BG, going about their deadly business in rare Technicolor footage. The mission shown in the film is both routine and climactic, because 25 missions completed meant the crew could rotate out of combat. (Too many never made it to 25 missions. Bomber losses were high.) It's a measure of both the times and the men that several of the Belle's crew signed on for many more dangerous missions, finishing the War flying B-29s against Japan.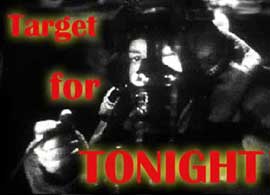 Target for Tonight follows the crew of "F for Freddie," a Vicker's Wellington medium bomber (Millerton Station, Group 33), through an entire low level night mission attacking a oil storage depot at a rail yard. Notice how the film highlights the participation of not only servicemen from all classes from around the British Isles, but also Canadians and a navigator that sounds a lot like a Yank volunteer. The film exemplifies the understatement, dry humor, and "business as usual" approach typical of British information films of the period, along with a clear "get the job done" attitude.
If you haven't stopped by Zeno's Drive-In before, we also feature 1940-45 vintage WWII Army & Navy films and pilot's manuals on how to fly the F4U, F6F, P-38, P-39, P-40, P-47, P-51, P-61, TBF/TBM, AT-6/SNJ, B-17, B-24, B-25, A-20, A-26, B-26, B-29, and Stearman N2S .Alert! – Alert! There's just been an F-86 sighted over Zeno's Drive-In!
That's over 14 hours of rockin' World War II props for free viewing over the internet!
Coming soon: A new film that will warm the hearts of P-38 fans everywhere!
Zeno
Zeno's Warbird Video Drive-In
World War II Aviation Videos Playing Online 24/7
http://www.zenoswarbirdvideos.com