In a press release June 1st 2015 the US Army announced the release of the Operational Camouflage Pattern (OCP) in Soldier uniforms. Scorpion W2 patterned OCP uniforms, patches, and badges has been made available for purchase in select military clothing sales stores from July 1.
The new OCP pattern will also replace the related MultiCam, that was previously used for troops deploying to Afghanistan. New Soldiers will according to the plan receive Operational Camouflage Pattern Army Combat Uniforms beginning in January 2016.
Operational Camouflage Pattern OCP Design Changes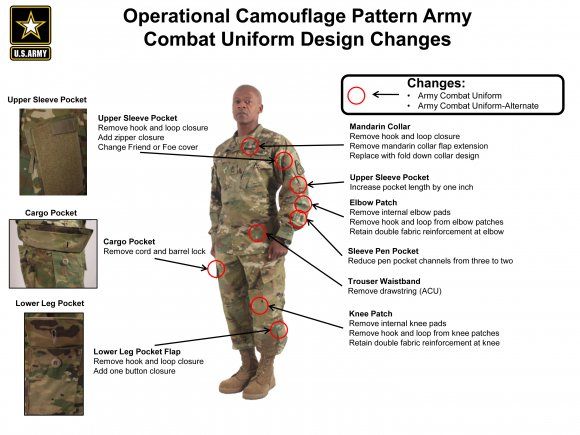 In addition changes in the camouflage pattern itself, the OCP uniforms will have several minor design changes. Including redesigned shoulder sleeve pockets with, elimination of the elbow and knee patch hook and loop, no trouser drawstring, reduce pen pockets from three to two, and a button on the lower calf pocket.
Operational Camouflage Pattern OCP Uniform Boots, Belts and Shirts
According the plans the currently worn sand color T-shirt and belt to will be changed to type Tan 499. Also the US Army Combat Boots will change from a sand colored to coyote brown. The tan 499 belts and T-shirts will be available in select stores beginning in July 2015 while the coyote brown Army Combat Boots will be available during August 2015.
The US Army plans to phase in the Operational Camouflage Pattern over the next four years. This period has been decided so it will reduce the financial burden on the soldiers. During the phase-in period the soldiers may wear their ACUs in either UCP or Operational Camouflage Pattern.
Read the entire US Army Operational Camouflage Pattern press release here: Army.mil Press Release
Additional OCP details can be found here: Army.mil OCP PDF